Unity
Hi, I would like to get my game on a very simple google-sites site I made (or am planning on making xD) though I don't really know how, or if it is even possible. I'm currently hosting the webplayer of my game on my dropbox account and people can play it there. So my question now is how do I get it so that when people go to my google-sites site they can play it in there (not just a link to the dropbox url, but actually play it on the website) ? I also was wondering if there was a simple way to implement an issue tracking system there too ?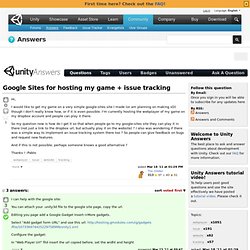 Google Sites for hosting my game + issue tracking
How to embed a unity game into a webpage
This section of Unity Magic will provide you with basic skills. Share this page with your friends Where to get Unity 3D and how to install it. Navigating in 3D space
Unity 3D Basic Tutorials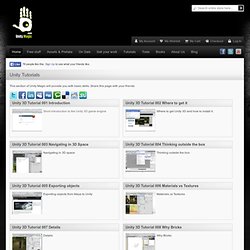 Unity 3D Basic Tutorials
Interactive Anatomy
Thank you! Last edited by Anatronica; 06-03-2012 at 04:39 AM. Reason: Update Location Western Europe Posts 845 Very nice (especially the scrollwheel function, that hides/shows the bones surrounding the focalpoint step by step while still being able to rotate while doing it) (i also like the website surrounding it) you can try to look at the skull, it is very interesting to see what is inside, my favorite part of the skeleton Location Tasmania-Australia Posts 291 Thats really very cool, Nice one! Cooooooooooooooooooooooooooooooooooooooooooooooooo oooooooooooooooooooooooooooooool we just released circulatory system - check it out!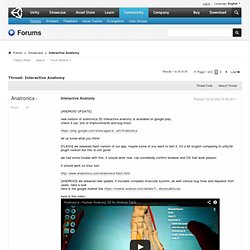 Create a FPS Game in Unity 3D #1 - The Basic Steps