BE A SMART TEACHER
Classroom in the Cloud
Teaching Vlogging, Podcasting, and More!
Sorry, we can't find the page you're looking for.As part of a recent major redevelopment of our site, your page may have been moved, updated or deleted. Please try the following: Enter keywords related to the page you're looking for into the search box in the top right hand corner Use the navigation at the top of this page to browse for information on your chosen topic Visit our home page to find out more about our site structure to work out where your information is located.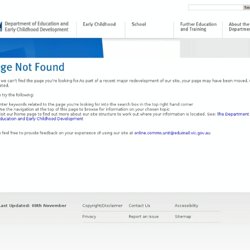 Using Technology to Support Teaching- Safety in the curriculum- School Policy + Advisory Guide- Curriculum
Integrating Educational Technology in the Classroom - 1. Meaningful Learning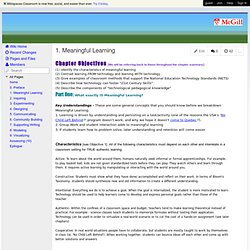 (1) Identify the characteristics of meaningful learning (2) Contrast learning FROM technology and learning WITH technology (3) Give examples of classroom methods that support the National Education Technology Standards (NETS) (4) Describe how technology can foster "21st Century Skills" (5) Describe the components of "technological pedagogical knowledge" Part One: What exactly IS Meaningful Learning? Key Understandings - These are some general concepts that you should know before we breakdown Meaningful Learning. 1. Learning is driven by understanding and persisting on a task/activity (one of the reasons the USA's ' No Child Left Behind ' program doesn't work, and why we hope it doesn't come to Quebec ). 2.
Report: More kids 'cyberbaiting' teachers
cyberbaiting Athima Chansanchai msnbc.com Nov. 18, 2011 at 10:40 AM ET
一萬個小時的創意練習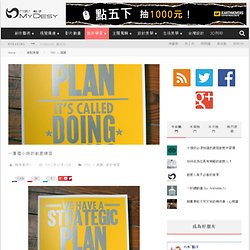 最近看到一個理論(但其實他在09年就提出了),是【異數】的作者:葛拉威爾(Malcolm Gladwell)所 ... 最近看到一個理論(但其實他在09年就提出了),是【異數】的作者:葛拉威爾(Malcolm Gladwell)所提出,她認為, 成就一種專業,需要一萬個小時的練習,以每天練習3小時的來算,一共需要十年才會成功! 十年磨一劍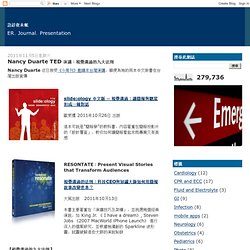 Nancy Duarte 近日接受 《今周刊》邀請來台灣演講 ,順便為她的兩本中文新書在台灣出版宣傳 slide:ology 中文版 ─ 視覺溝通:讓簡報與聽眾形成一種對話 歐萊禮 2011年10月26日 出版 這本可說是"簡報學"的教科書,內容著重在簡報投影片的「設計層面」,教你如何讓簡報看起來既專業又有美感 RESONTATE:Present Visual Stories that Transform Audiences
Nancy Duarte TED 演講:視覺溝通的九大法則
網頁註解?筆記?剪貼?
Scrible 網路研究員專用的網頁註解、筆記剪貼雲端個人資料庫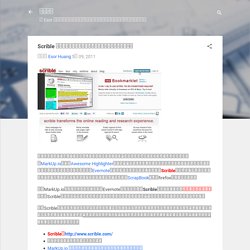 然而,教師修煉自己成為一個本科專業的飽學之士,是否就算得上是位稱職的教師呢? 可能不止於此,不斷精進專業領域知識是身為教師的本分而已,更重要的是──如何將學科專業內容透過「適合」的方式「教會」學生才是卓越教師的價值所在。 古今中外,一般人對師資的價值觀多專注在教學者的「專業領域知識」(domain knowledge)上──亦即著眼於教學者擁有的學歷文憑、經歷職銜,以及證照著作等,因為這些客觀的、可具體「量化」的實證資料,更勝過「質性」的、內隱的,以及個人主觀認定的教學策略與技巧能力。這種師資專業認定的迷思不啻是把「優質研究者」與「優質教學者」直接畫上等號;雖然在許多案例中這個「等式」成立的機會頗高,但也有愈來愈多的個案顯示一位在特定領域表現優異的研究者(學者),不見得必然會在「教學」或「其他領域」上同樣優異,因為在不同領域擅場所需要的技能與思維邏輯常常是不同的──譬如,企管名嘴教授不見得會是個教學卓越的教師;諾貝爾獎得主更不見得會是個教育政策專家…。 鑒於這種「教學專業」價值判定上的迷思需要釐清──有必要重申教師「教學專業」發展的重要性,史丹佛大學的Lee S. Shulman教授在1986年即提出了「學科教學法知識」(Pedagogical Content Knowledge, PCK)的概念,其強調教師除了學科專業知識(Content Knowledge, CK)以外,也需積極發展攸關學科領域教法的教學法知識(Pedagogical Knowledge, PK),亦即教師要綜整並養成具備該學科教學(與學習)特色的學科教學知識(PCK)能力。
深耕--教與學電子報 - 從促進教師發展「學科教學科技知識」能力之觀點...
Expeditionary Learning | Engaging Students, Transforming Schools
Seven Tools for Creating Data Visualizations
This morning I received an email asking me for some tools for creating data visualizations. Here are seven tools that students can use to build data visualizations. Better World Flux is a free data visualization development tool that was created for the World Bank's Apps for Development Challenge . The purpose of the challenge was to encourage app developers to create products that could be used to highlight the development data hosted by the World Bank .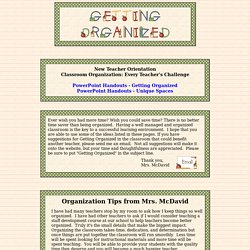 Organization Tips from Mrs.