Business 2.0
Web2.0 web3.0. New App Combines Personal & Business To-Do Lists. Apps that track tasks are a dime a dozen, and most business collaboration tools come equipped with a to-do list function.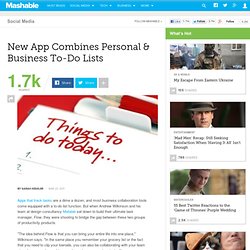 But when Andrew Wilkinson and his team at design consultancy Metalab sat down to build their ultimate task manager, Flow, they were shooting to bridge the gap between these two groups of productivity products. "The idea behind Flow is that you can bring your entire life into one place," Wilkinson says. "In the same place you remember your grocery list or the fact that you need to clip your toenails, you can also be collaborating with your team at work, you can be working on a home improvement project with your boyfriend. " Flow, which launched Tuesday afternoon, is something like a cross between Cultured Code's Things App for Apple products and 37 Signal's Basecamp.
Content Marketing in a Blink: The Content Grid v2 [Infographic] — It's All About Revenue. Last June, Eloqua published the first infographic on the then-nascent content marketing industry.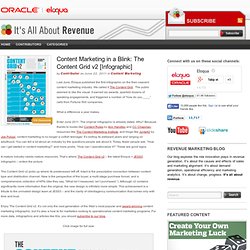 We called it The Content Grid. The public seemed to like the visual. It earned six awards, sparked dozens of speaking engagements, and triggered a number of "how do you ____" calls from Fortune 500 companies. What a difference a year makes. Www.vocus.com/Email/11/Apr/WP/25tipsforsocialmediasuccess.pdf. Internet.com - The Network for Technology Professionals.
Emailmarketing
Your Product Needs to be 10x Better than the Competition to Win. Here's Why: Last night I had the great privilege to interview Bill Gross, one of the Internet's true pioneers.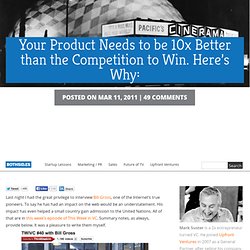 To say he has had an impact on the web would be an understatement. His impact has even helped a small country gain admission to the United Nations. All of that are in this week's episode of This Week in VC.
---