Fitness
My endeavour with Sports Fitness Advisor is to help you get fit for a sport or for your life. Whether your goal is to become the best athlete you can, or simply lose a few stubborn pounds and feel great about your body... I think you'll like what's inside this site. As the headline would suggest, I'm a big believer in providing scientific proof whenever I make a claim or a statement of fact. That's so you can trust the information you read. You'll find sections on each of the major components of fitness such as strength training, power training, speed training, plyometrics, body composition, endurance training and flexibility training...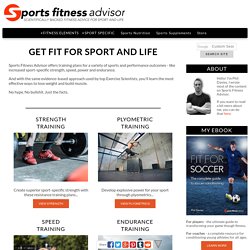 Phil Davies' Sports Fitness Advisor - Get Fit for Sport & Life
After Life Fitness
AFTER LIFE fitness group meets 2x weekly for outdoor running-fitness and cross-training sessions in & around Mosman at 6:00 - 6:50AM. Attendees participate of their own accord and take personal responsibility for choosing and/or participating in AFTER LIFE fitness activities. See attached PDF supplied by City To Surf for details; the days on this have been updated so that our 'group training' days match up to Wednesday & Friday. These sessions will comprise approx 10 mins warmup/down + 20 - 25 mins hard running (interval sprints) + the rest arms/abs x-training.