Business analyst
100 Must See Interviews With the World's Most Successful Entrepreneurs | Under30CEO. At Under30CEO we think big.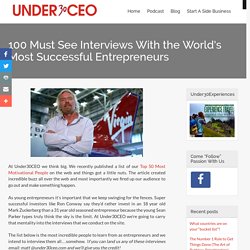 We recently published a list of our Top 50 Most Motivational People on the web and things got a little nuts. The article created incredible buzz all over the web and most importantly we fired up our audience to go out and make something happen. As young entrepreneurs it's important that we keep swinging for the fences. Super successful investors like Ron Conway say they'd rather invest in an 18 year old Mark Zuckerberg than a 31 year old seasoned entrepreneur because the young Sean Parker types truly think the sky is the limit. At Under30CEO we're going to carry that mentality into the interviews that we conduct on the site. Eventbrite. Invalid quantity.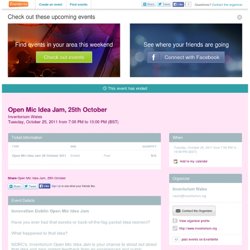 Please enter a quantity of 1 or more. The quantity you chose exceeds the quantity available. Please enter your name. Learn About the Biggest Conflict in History with World War II Interactive. By Jillian | November 4, 2011 | No comment yet World War II Interactive offers WWII enthusiasts the opportunity to relive the biggest conflict in history with an interactive experience that includes photos, videos, audios and text all chosen carefully and displayed beautifully.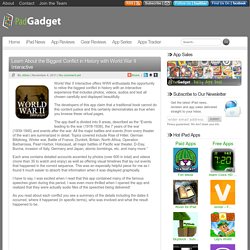 The developers of this app claim that a traditional book cannot do this content justice and this certainly demonstrates as true when you browse these virtual pages. The app itself is divided into 9 areas, described as the "Events leading to the war (1918-1938), the 7 years of the war (1939-1945) and events after the war. All the major battles and events (from every theater of the war) are summarized in detail. The Designer's Survival Guide - Curated by Richard Baird. Posted: | Author: Richard Baird | Filed under: Design Survival | 0 Comments A guide to help new designers master the logo design basics.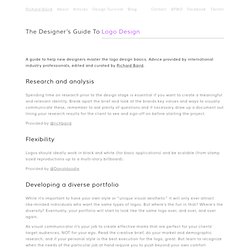 Advice provided by international industry professionals, edited and curated by Richard Baird. Research and analysis Spending time on research prior to the design stage is essential if you want to create a meaningful and relevant identity. Augmented Reality: Depth-assisted Real-time 3D Object Detection | Beyond The Beyond. How to move all Android apps to SD card. [Update - May 2013] To see whether this procedure may work on your phone, check out the new post [Follow up] List of phones that work with "How to move almost all apps to SD card" procedure and comments to this post.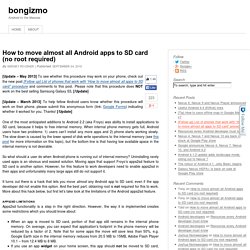 Please note that this procedure does NOT work on the best selling Samsung Galaxy S3. [/Update] [Update - March 2013] To help fellow Android users know whether this procedure will work on their phone, please submit this anonymous form (link: Google Forms) indicating whether it worked for you. Thanks! A Guide to the Business Analysis ... - Iba. Business analysis. Business analysis is a research discipline[1] of identifying business needs and determining solutions to business problems.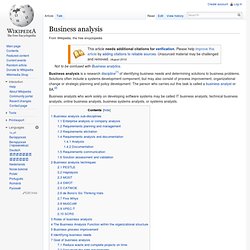 Solutions often include a systems development component, but may also consist of process improvement, organizational change or strategic planning and policy development. The person who carries out this task is called a business analyst or BA.[2]
---