Internet Caches
Convenient Gadgets & Gifts - Great Gift Ideas - Unique Gifts, Gadget Sytle.
My Account | View Cart | Checkout Call Toll Free Go Home Gift Picker
The Internet of Things starts here - Violet •• Let All Things Be Connected
ECTOPLASMOSIS!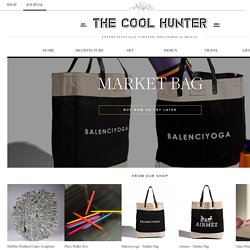 More than 400 invited guests attended the opening event of The Art Hunter in Sydney on Tuesday night. The Art Hunter launch is a collaboration between The Cool Hunter and Jaguar, and the opening night was also the Australian debut of the spectacular Jaguar C-X17 concept car. To present The Art Hunter, we engaged our dream team of collaborators, led by the incomparable Natalie Longeon and Peter Pengly from The Artistry (they designed and executed our Summer Lovers Rotate store as well), to transform a 500 m2 warehouse in Alexandria into a genuinely exciting, temporary three-week art exhibition experience. The Art Hunter is not a white-walled space where you quietly walk past pieces of art. Instead, it is an eclectic and vibrant environment where every wall is a different color (by our paint sponsor Taubmans), where there is no natural light and where the work of more than 40 artists, curated by us, is not only on display but also for sale.
I'm a cadillac charged article. by Michael Slenske Two decades ago, New York-based light sculptor Leo Villareal attended Burning Man (the annual week-long art event in Black Rock City, Nevada, which culminates around a wooden sculpture of a man set on fire) and the experience changed his life. A few years later Villareal returned to the Nevada desert with a 16-strobe light beacon of his own design, which he fixed to the roof of his group's RV so that they could find their way home.