ANCIB - Universities and research references
Biblioteconomía y Documentación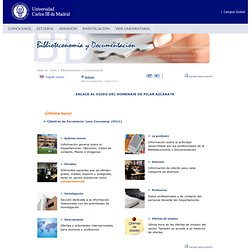 El Departamento de Bilbioteconomía y Documentación ofrece desde 1991 estudios presenciales de Biblioteconomía y Documentación en el campus de Getafe. El Departamento realiza labores de investigación en distintas líneas, habiendo obtenido numerosos proyectos en convocatorias competitivas, así como la publicación de trabajos en revistas y congresos de ámbito nacional e internacional. Pretende contribuir a la formación integral de los alumnos a través de la creación de conocimiento mediante una investigación y enseñanza de calidad, con vocación de compromiso intelectual, fomentando la innovación y la inserción profesional.
UMSI
Graduate School of Library and Information Science | University of Illinois
School of Library, Archival and Information Studies - The University of British Columbia
National School for Information and Library Science
Information School
By 1st August 2013, most academic staff in the Department of Information Science will be moving to the newly established Centre for Information Management in the School of Business and Economics; as will LISU (research centre). Some academic staff associated with research and teaching in publishing, and computer science, will move to the Department of English and Drama, and to the Department of Computer Science, respectively. This initiative provides a renewed focus for the development of existing strengths in information management in the Department of Information Science, the School of Business and Economics, and across the University. As far as our range of Undergraduate, Postgraduate and PhD programmes go, it is business as usual.
Department of Information Science