ANCIB - Universities and research references
Biblioteconomía y Documentación. UMSI. Graduate School of Library and Information Science | University of Illinois. School of Library, Archival and Information Studies - The University of British Columbia. Enssib | école nationale supérieure des sciences de l'information et des bibliothèques. National School for Information and Library Science. Information School. Department of Information Science. At Loughborough, we're one of the leading universities for Information Management and Information Science within the UK and are passionate about meeting the needs of today's and tomorrow's information society at a time of dynamic change – to 'transform the digital world'.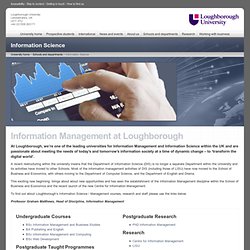 A recent restructuring within the university means that the Department of Information Science (DIS) is no longer a separate Department within the University and its activities have moved to other Schools. Most of the information management activities of DIS (including those of LISU) have now moved to the School of Business and Economics, with others moving to the Department of Computer Science, and the Department of English and Drama. This exciting new beginning brings about about new opportunities and has seen the establishment of the Information Management discipline within the School of Business and Economics and the recent launch of the new Centre for Information Management.
---