Wordpress
Actualités WordPress en français (plugins, thèmes et codes sources) Cforms II. !!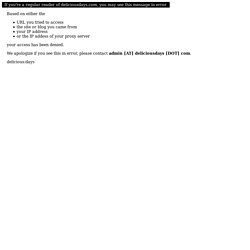 Please note that v14.5+ requires WP 3.3+ !! Please see the version history for what's new. Do you have any [cforms specific] customized files? Cforms supports a separate custom user folder to store your tailored CSS, font and image files! Simply create the folder: /plugins/cforms-custom and move or copy your my-functions.php, CSS stylesheet file (including images!) Plugin Wordpress. Un plugin WordPress est en fait un regroupement de fichiers comprenant des lignes de codes qui, une fois installé, vous permettra d'ajouter de nouvelles fonctionnalités à votre site web.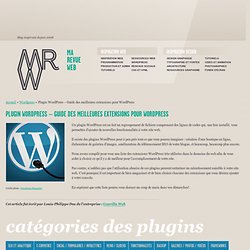 Il existe des plugins WordPress pour à peu près tout ce que vous pouvez imaginer : création d'une boutique en ligne, élaboration de galeries d'images, amélioration du référencement SEO de votre blogue, et beaucoup, beaucoup plus encore. Nous avons compilé pour vous une liste des extensions WordPress très utilisées dans le domaine du web afin de vous aider à choisir ce qu'il y a de meilleur pour l'accomplissement de votre site.
---