Quotes
Art Never Comes From Happiness. Remember: You Can Become Great Too - wave avenue - StumbleUpon. 17 things no one probably have told you yet (comics by alex noriega) - wave avenue - StumbleUpon. Posted by rd on Monday, August 15, 2011 · Mozambique based illustrator Alex Noriega loves drawing, reading and drawing even more.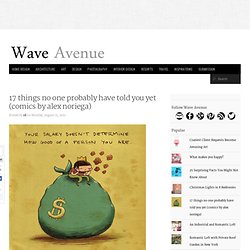 Alex was born and raised in Barcelona, went to Llotja, an art and illustration school also in Barcelona. After finishing school, he worked odd jobs and eventually landed a job as an illustrator in a fashion company. Finally, the call to blog got to him. Looking for the Best Dr. Seuss Quotes? | NetAttic - StumbleUpon. Home > Education, People & Celebrity > Looking for the Best Dr.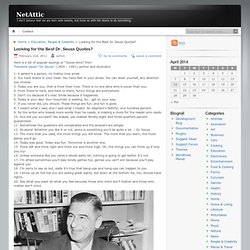 Seuss Quotes? Here is a list of popular sayings or "Seuss-isms" fromTheodore Geisel "Dr. - StumbleUpon. Anger | Tiny Buddha: Wisdom Quotes, Letting Go, Letting Happiness In - StumbleUpon. Collected Quotes from Albert Einstein - StumbleUpon. [Note: This list of Einstein quotes was being forwarded around the Internet in e-mail, so I decided to put it on my web page.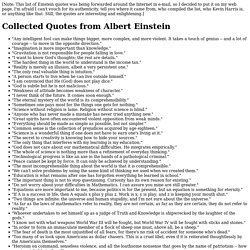 I'm afraid I can't vouch for its authenticity, tell you where it came from, who compiled the list, who Kevin Harris is, or anything like that. Still, the quotes are interesting and enlightening.] "Any intelligent fool can make things bigger, more complex, and more violent. - StumbleUpon. - StumbleUpon. Quotes: Wise quotes - StumbleUpon. Some wise and funny quotes from famous and anonymous people. 1.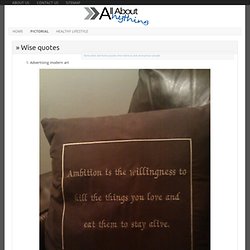 Advertising modern art 2. Ambition. - StumbleUpon. 40 Belief-Shaking Remarks From a Ruthless Nonconformist | Raptitude.com - StumbleUpon. If there's one thing Friedrich Nietzsche did well, it's obliterate feel-good beliefs people have about themselves.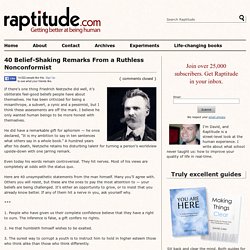 He has been criticized for being a misanthrope, a subvert, a cynic and a pessimist, but I think these assessments are off the mark. I believe he only wanted human beings to be more honest with themselves. He did have a remarkable gift for aphorism — he once declared, "It is my ambition to say in ten sentences what others say in a whole book." A hundred years after his death, Nietzsche retains his disturbing talent for turning a person's worldview upside-down with one jarring remark. Even today his words remain controversial. &Seven Blunders of the World& by Mahatma Gandhi - StumbleUpon. The Storm Before The Calm on we heart it / visual bookmark #3000548 - StumbleUpon. Reporting an entry If this image belongs to you or is your intellectual property, please submit a copyright notification instead of reporting it.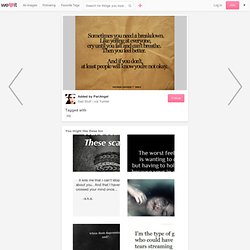 We encourage users to report abusive images and help us moderate the content on We Heart It. But please keep in mind that reporting images that are not abusive is against our terms of service and can get your account blocked. - StumbleUpon.
---