Quotes
Art Never Comes From Happiness.
Remember: You Can Become Great Too - wave avenue - StumbleUpon
17 things no one probably have told you yet (comics by alex noriega) - wave avenue - StumbleUpon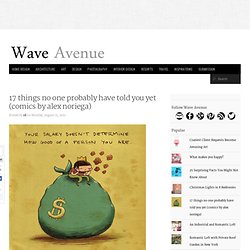 Posted by rd on Monday, August 15, 2011 ·
Posted by admin on Feb 2, 2011 in Education, People & Celebrity | Here is a list of popular sayings or "Seuss-isms" fromTheodore Geisel "Dr. Seuss" (1904 – 1991) author and illustrator.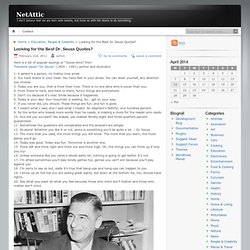 Looking for the Best Dr. Seuss Quotes? | NetAttic - StumbleUpon
- StumbleUpon
Anger | Tiny Buddha: Wisdom Quotes, Letting Go, Letting Happiness In - StumbleUpon
Collected Quotes from Albert Einstein - StumbleUpon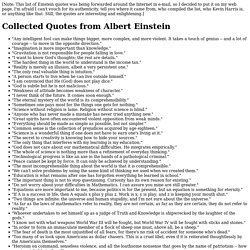 [Note: This list of Einstein quotes was being forwarded around the Internet in e-mail, so I decided to put it on my web page.
- StumbleUpon
- StumbleUpon
Quotes: Wise quotes - StumbleUpon
Some wise and funny quotes from famous and anonymous people. 1. Advertising modern art 2. Ambition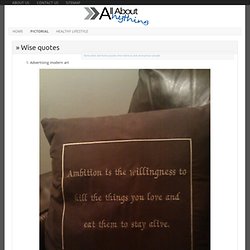 - StumbleUpon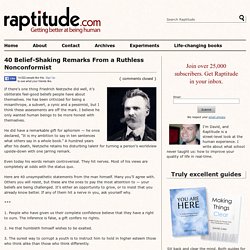 If there's one thing Friedrich Nietzsche did well, it's obliterate feel-good beliefs people have about themselves. He has been criticized for being a misanthrope, a subvert, a cynic and a pessimist, but I think these assessments are off the mark.
40 Belief-Shaking Remarks From a Ruthless Nonconformist | Raptitude.com - StumbleUpon
&Seven Blunders of the World& by Mahatma Gandhi - StumbleUpon
Reporting an entry
The Storm Before The Calm on we heart it / visual bookmark #3000548 - StumbleUpon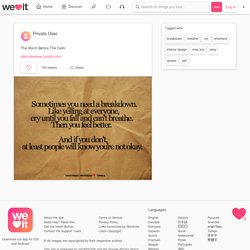 - StumbleUpon