Pininterest favs
Health And Wellbeing / 100cal. Health tidbits / lose 5 lbs. Gardening / How About Making Hanging Planters From Flip Flops? Dress a Shade Lamp Shade SlipCovers / Featured in People Magazine! Check it out! House Inspiration / Dawn + Vinegar. Tried this yesterday. I was impressed. Holidaze / Pumpkin door design! Sueann / pieces of her. Books: My Way to Escape Life / I'll have to try some of these... Healthy Ideas / Yoga for Complete Beginners - Yoga Class 20 Minutes.
Crazy cat lady / Dog Adopts Baby Chimpanzee. Facebook. Fitness / So I'm going to try this and see if it works! Shrink a Size in 14 Days This revolutionary, science-backed workout is reader tested and can help you shed up to 12 pounds and 22 inches in just 2 weeks. Love love. / ... How Many Times Have You Interacted With The Government Today? Me Like / French Country Cottage interiors blog. Top 10 Warning Signs of Cancer in Dogs and Cats. May is Pet Cancer Awareness Month, a time to spread awareness of the symptoms of cancer in dogs and cats.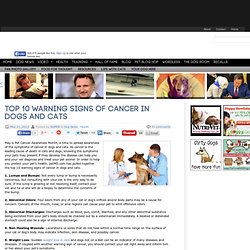 As cancer is the leading cause of death in cats and dogs, knowing the symptoms your pets may present if they develop the disease can help you and your vet diagnose and treat your pet sooner. In order to help you protect your pet's health, petMD.com has pulled together the top 10 warning signs of cancer in dogs and cats. 1. Feeling for the Edge / Who are you? Ideas / walking. Decorating / Anywhere Kitchen. Inspiration / illustration. Wearable / Sew Dang Cute Crafts: Fab Five. Kittens / 9GAG - ColorPoint kitten and window. Pets / good to know. For the Home / Decor. Quotes and phrases / always! Buffalo chicken garbage bread | finding a new life through food. My morning consisted of dancing in my kitchen to Rihanna and Beyonce while making buffalo chicken garbage bread.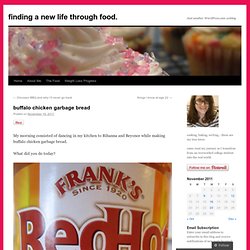 What did you do today? I also cleaned out the sink in an effort to remain in good daughter graces. My birthday is coming up next week and we all know that I'm wishing and hoping for the typical 22-year-old gifts. Dutch ovens, silplat mats, and of course anything from the Martha Stewart cooking line at Macy's. Funny Images / start chugging. Fairy Tales / Linda Hamilton and Ron Perlman in the old TV show, Beauty and the Beast . . . which is coming back! Gardening / Spello, Italy. Healthy Living / Spondylolisthesis - Medical Disability Guidelines.
Paradise / university of kansas. Recipes. Wedding cake ideas / this is really cool! Sports Cakes / Denver Broncos Cake. Selo in Mix / Cupcakes - Mickey mouse. Food & drinks / up <3. Food / Smore croissants. NEED. Food / Relatively healthy Buffalo Chicken Rolls. Baked, not fried. Food / Cheddar Bacon Ranch Pulls. Creative fun food / my kids LOVE this meal. Dogs. Unconditional Love / Dog Rules. Cats and Dogs / and dogs... Funny/cute animals / So true. Word Monger / Ha ha ha...goodnight;-) Things that make me lolz / This is my Friday, every Friday, all day long in the office. Giggles. / naked. Work Fails & Job LOLs - Monday Through Friday - Page 4. Just Fucking Funny. Wait can I say Fuck? / You can only stalk your friends on Facebook for so long, but there is always new stuff on Pinterest! Funny Stuff / My sister got me a sign like this...LOVE it!!! =0. Things that make me lolz / This is my Friday, every Friday, all day long in the office.
Something to say and think about / on moving on. MiaouWawaGrrrr / Omg omg omg. LOL / bluntcard.com. Style / Wondering if this is to shag or short, but I like it . . .need a change. Film Music and Books / Muscular System (Quickstudy: Academic) Fashion / Landscaping Dream Board / pallet garden...wow nice! RUE Sonoma by RuPiper Designs / L'Art Culinaire Rooster Made on salvaged wood. Perfect for your kitchen. #French #Farmhouse #HomeDecor. Recipes / Cinco de Mayo Recipes and Ideas. Fitness & Healthy Meals / Healthy Alcoholic drinks so you stay on track with your diet. My hairstyle inspirations / <3 hair highlights. Me Like / Best breakfast on the go. <3 / True! Great Movies / Year in Review: The Ten Best Movie Posters of '07! | Film School Rejects.
Garden and Landscape / Like the post painted green. Outdoor & Landscaping / Best Garden Designs: Purple Punches - iVillage. GARDENING/OUTDOORS / store hose around pail. DIY Remedies, Tips & Tricks / I have to teach Tom how to do this. Haha. For the Home / DIY Storage Small. Interiors / Brunch at Saks: Laundry Room Love. Projects. Cool ideas / Very cute and practical ... Crafts / Lamps made out of old tuna cans. Wanna try / bird feeders. Everyday or Holiday Ideas/Stuff / DIY crafts. Crafty / Print an image on wax paper and transfer it to wood.
Halloween just keeps getting cooler / A Cat-o-Lantern with spooky glowing eyes! A n d wearable. / Hair Romance: 30 Days of Twist & Pin Hairstyles – Day 13. Nails. Welcome to your account. Add anything from anywhere. Organize your interests naturally. Explore your community of interests. Share all of this!
---