Homemaking/Gardening
"Do I Really Need a..." by Mark Chenail page one. Congratulations on your new land and your decision to finally get out of the daily grind of urban life and retire to the peace and quiet of the country.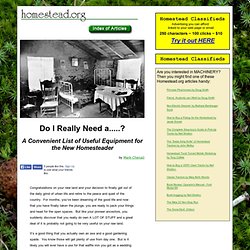 For months, you've been dreaming of the good life and now that you have finally taken the plunge, you are ready to pack your things and head for the open spaces. But like your pioneer ancestors, you suddenly discover that you really do own A LOT OF STUFF and a great deal of it is probably not going to be very useful on your raw land. It's a good thing that you actually own an axe and a good gardening spade. You know those will get plenty of use from day one. But is it likely you will ever have a use for that waffle iron you got as a wedding present or Great Aunt Minnie's silver chafing dish? Building Your Medicine Chest: First-Aid Antiseptic Ointment. Today I want to share with you an all-natural product that you can make easily at home in order to build your DIY medicine chest.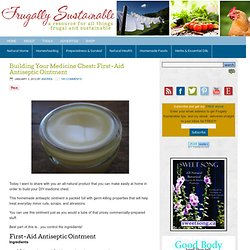 This homemade antiseptic ointment is packed full with germ-killing properties that will help treat everyday minor cuts, scraps, and abrasions. You can use this ointment just as you would a tube of that pricey commercially-prepared stuff. Best part of this is…you control the ingredients! First-Aid Antiseptic Ointment. Video: Béa Johnson on Creating a Zero-Waste Kitchen Sunset. Don't Be An Urban Homesteader Asshole. You ripped up your front lawn to plant kale and a heritage quince tree.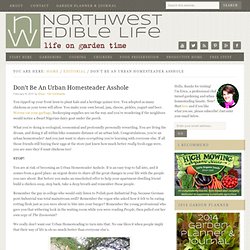 You adopted as many chickens as your town will allow. You make your own bread, jam, cheese, pickles, yogurt and beer. Worms eat your garbage , beekeeping supplies are on the way and you're wondering if the neighbors would notice a dwarf Nigerian dairy goat under the porch. Brown Thumb Mama: Five things you should be making (and not buying) "Why?"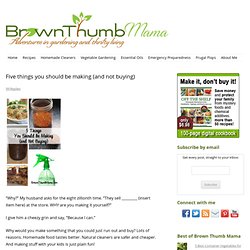 My husband asks for the eight zillionth time. "They sell _________ (insert item here) at the store. 10 Homestead Chores You Can Accomplish in 10 minutes or Less. Www.skylinepoultry.net.
Seed Companies. Homegrown and Handmade. Our food system is dominated by industrial agriculture, and has become economically and environmentally unsustainable.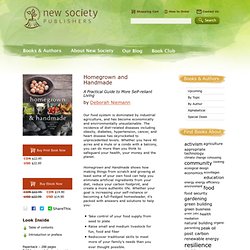 The incidence of diet-related diseases including obesity, diabetes, hypertension, cancer, and heart disease has skyrocketed to unprecedented levels. Whether you have 40 acres and a mule or a condo with a balcony, you can do more than you think to safeguard your health, your money and the planet. Homegrown and Handmade shows how making things from scratch and growing at least some of your own food can help you eliminate artificial ingredients from your diet, reduce your carbon footprint, and create a more authentic life.
Whether your goal is increasing your self-reliance or becoming a full-fledged homesteader, it's packed with answers and solutions to help you: Why The Hell Do I Put Myself Through This? There are those days.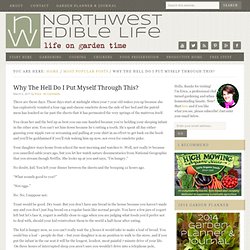 Those days start at midnight when your 7 year old wakes you up because she has explosively vomited a four egg-and-cheese omelette down the side of her bed and the putrid mess has leached so far past the sheets that it has permeated the very springs of the mattress itself. You clean her and the bed up as best you can one-handed because you're holding your sleeping infant in the other arm. You can't set him down because he's cutting a tooth. He's spent all day either gnawing your nipple raw or screaming and pulling at your shirt in an effort to get back on the boob and you'll be goddamned if you'll risk waking him up now, not even for omelette puke. Punk Domestics | Preserving • Culture • Community. Hip Girl's Guide to Homemaking - Living thoughtfully in the modern world.
---