ICTs in technology
21st Century Schools and Learners. What Will Be Obsolete in 2020? Culture Teaching Strategies Expounding on the ideas of the wildly popular article 21 Things That Will Be Obsolete in 2020, we asked a few of those who attended Big Ideas Fest, a recent gathering of teachers, administrators, entrepreneurs and policymakers, to predict what they think will be obsolete in 2020.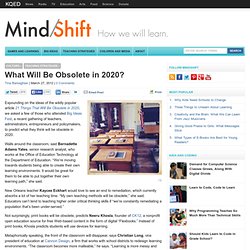 Walls around the classroom, said Bernadette Adams Yates, senior research analyst, who works at the Office of Education Technology at the Department of Education. The Teacher's Quick Guide To Pinterest. The following article is by Julie Delello of the University of Texas at Tyler.
She can be reached at jdelello[at]uttyler.edu if you have any questions or comments. Children learn social skills by interacting freely with peers. Playgrounds provide an opportunity for children from different classrooms to interact and enhance skill development. What if there was a place for the teachers to play, learn new skills, and network with others? The A-Z Dictionary of Educational Twitter Hashtags. Whether you're a new or seasoned Twitter user, you likely come across confusing hashtags that probably look like a bunch of nonsense.
First, What's A Hashtag? The # symbol, called a hashtag, is used to mark keyword or topic in a Tweet. Any Twitter user can categorize or follow topics with hashtags.Those hashtags (usually) mean something and are a great way to get a tweet to appear in search results or discussion monitoring. For example, the popular #edchat hashtag is used by thousands of users every Tuesday. Video - Breaking News Videos from CNN.com. Pistorius trial cross-examination ends1:11Jewish center shooting suspect identified1:12Day care hit-and-run suspect in custody1:11Girl unwraps soldier dad for birthday0:49What is Bitcoin?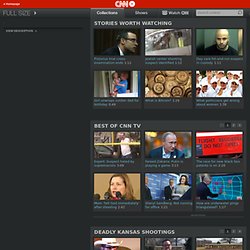 1:29What politicians get wrong about women1:38 Expert: Suspect hated by supremacists3:09Fareed Zakaria: Putin is playing a game3:13The race for new black box patents is on2:20Mom 'felt God immediately' after shooting2:42Sheryl Sandberg: Not running for office1:21How are underwater pings triangulated? 1:27Sources: Malaysia plane dropped altitude Hear police radio call after stabbing Students stabbed at Pennsylvania school Zakaria: Russia's trying to create chaos Piecing together a plane accident puzzle Nancy Grace: Regret doesn't excuse deed. Digital Differentiation. Technology is a tool that can be used to help teachers facilitate learning experiences that address the diverse learning needs of all students and help them develop 21st Century Skills.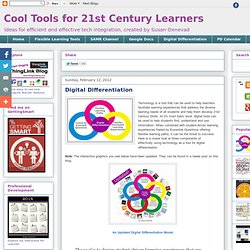 At it's most basic level, digital tools can be used to help students find, understand and use information. When combined with student-driven learning experiences fueled by Essential Questions offering flexible learning paths, it can be the ticket to success. Here is a closer look at three components of effectively using technology as a tool for digital differentiation. Free Audio Tools for Teachers ( Presentation ) I have been receiving several emails recently asking me for a presentation about free audio tools that teachers can use in their classroom.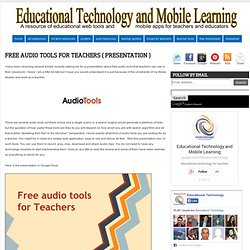 I know I am a little bit late but I hope you would understand it is just because of the constraints of my thesis studies and work as a teacher. There are several audio tools out there online and a single querry in a search engine would generate a plethora of links but the question of how useful these tools are they to you will depend on how smart you are with search algorithm and all that bubble. Speaking from the" in the trenches " perspective, I know exactly what kind of audio tools you are looking for as a teacher. You might be in need of a simple web application, easy to use and above all free . Well this presentation has 12 such tools. Heyjude. In a world where libraries are completely reinventing themselves, where universities and schools are moving away from labs to BYOD, and where the focus of everything seems to be on mobiles —what will be the role of technology in the next decade?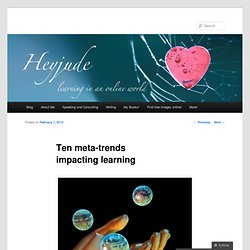 What do leading institutions need to be doing now to prepare? What are the strategies that will provide them the most flexibility? The greatest competitive advantage? These are the overarching questions that recently drove the discussions at 10th anniversary New Media Consortium Horizon Project special convocation and retreat. Over its decade of work, the Horizon Project has grown to the point that it may very well be producing the single most important body of research into emerging technology within the world of education. 62 things you can do with Dropbox. Ask Macworld editors to name our favorite apps, and most of us would mention Dropbox.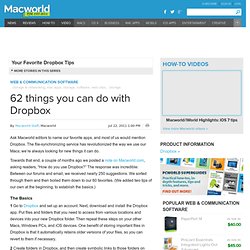 The file-synchronizing service has revolutionized the way we use our Macs; we're always looking for new things it can do. Towards that end, a couple of months ago we posted a note on Macworld.com, asking readers, "How do you use Dropbox?" The response was incredible: Between our forums and email, we received nearly 250 suggestions. We sorted through them and then boiled them down to our 60 favorites. 5 Ways for Students to Publish in Under a Minute. There are many excellent platforms that teachers and students can use to create and maintain a blog throughout the school year.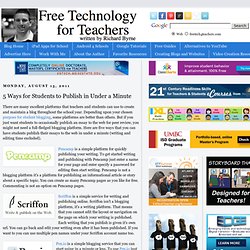 Depending upon your chosen purpose for student blogging, some platforms are better than others. But if you just want students to occasionally publish an essay to the web for peer review, you might not need a full-fledged blogging platform. Here are five ways that you can have students publish their essays to the web in under a minute (writing and editing time excluded).
Pencamp is a simple platform for quickly publishing your writing. To get started writing and publishing with Pencamp just enter a name for your page and enter specify a password for editing then start writing. Education Week Teacher Book Club. (Jossey-Bass) by Doug Lemov Discussion Dates: April 12-14, 2011 In Teach Like a Champion, Doug Lemov, founder of the Uncommon Schools charter network, offers 49 "concrete, specific, and actionable" techniques that teachers can implement immediately to drive student achievement.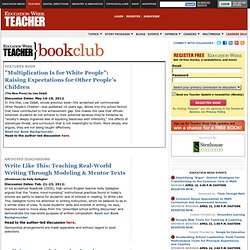 The techniques are not ones Lemov invented, but rather ones he has seen time and again in his observations of highly effective teachers. Windows Info Portal. 26 Oct Microsoft offers a collections of materials in its Digital Citizenship in Action: A Guide to Education & Events Toolkit. The toolkit includes all the elements needed to teach yourself and help educate others about computer security, data privacy, and online safety issues, prevention, and remediation. The toolkit contains the event planning guide and supplemental posters designed to help plan and advertise your online safety event to various audiences – parents, educators, policymakers NGOs, etc.
Event guide and posters included in the toolkit: - A Guide to Planning an Online Safety Event - Digital Citizenship Begins with You Poster - Is Your Teen a Good Digital Citizen - Student Body Language_On Texting - The Naked Truth_Beware What You Share Digital Citizenship Toolkit - Event Guide & Posters. Five Tips for Managing Learning in a Tech-Centered. Tools You Can Use – Week of January 23, 2012 – Google Forms | BPS Educational Technology Team. If you aren't aware of Tom Barrett and his "Interesting Ways" series , then you are missing out on a tremendous resource that is actually a crowd-sourced collection of examples on how you can utilize various technology tools in your classroom.
One that I stumbled across this weekend was a collection of examples on how you can use Google Forms in your classroom. Here are some of the examples that you can use right away in your classroom: Exit Ticket/Check for Understanding. Tech Tools for Teachers: Podcasting. By Nik Peachey In the first instalment of his brand-new series, Nik Peachey looks at podcasting and how it can be used to help students develop their listening and speaking skills both inside and outside the classroom. Nik provides a comprehensive overview article on podcasting, a downloadable lesson plan, a video screencast tutorial and a printable how-to guide.
Teachers Bring Text Messaging to the Classroom. In most U.S. classrooms, texting is a violation. But in Joe Gianotti's English classes at Lowell (Ind.) High School, texting is required. Gianotti's students use a web-based texting service called Celly to conduct "backchannel" discussions about classroom topics, which he projects onto the wall from his notebook computer for everyone to read. "While the kids are reading novels, watching movies or listening to podcasts, there's this awesome discussion taking place without anyone saying a word," Gianotti says. 21 st Century Educational Technology and Learning. This is a site that you are bound to find useful in your classroom. The tools are incredible and may even include items you have used on paper in the past… but can now bring digitally into the 21st century! Before this informative journey encompassing some engaging resources please take a moment and sign up by email or RSS.
I enjoy sharing and I am also motivated by knowing that I am making a difference for you. Your subscription, retweet, and comments means a lot to me. I thank you in advance. Auntytech.visibli. 10 Useful Chrome Web Apps and Extensions for Teachers and Students. The Super Book of Web Tools for Educators. The 100 Best Web 2.0 Classroom Tools Chosen By You. 12 Ways to Be More Search Savvy. Most Popular Posts of the Year - #25, Useful YouTube Accessories for Teachers. 4 Facebook Timeline Features You Should Learn Now.
New iPad App Lets Any Teacher Be Like Sal Khan. Sweet Search. 12 sites to watch films online for free. Websites That Will Let You Create Digital Magazines and Newspapers. Jobs of the Future – Will Our Students Be Prepared? 12 signs your tech leadership is obsolescent. BBHCSD iPads for Education. Installing iPad Diigo web highlighter. 10+ Facebook Apps for Education. History Tech. 10 Schools Encouraging Smartphones in the Classroom. Move Over Three R's, Here Come the Three C's. Opening up a world of educational content with YouTube for Schools. 100 iPad Apps Perfect For Middle School. InClass - The last school app you'll ever need | Digital Citizenship in Schools | Scoop.it.
28 Creative Ideas for Teaching with Twitter.
---