International Educuation
Europe's Budget Crisis Hits Universities. "There will be fewer institutions: A lot of the smaller institutions will have been merged and institutions will be encouraged to specialize," Mr.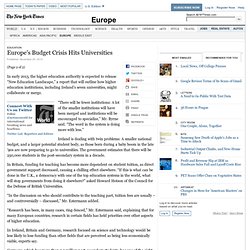 Byrne said. "The word in the system is doing more with less." Ireland is dealing with twin problems: A smaller national budget, and a larger potential student body, as those born during a baby boom in the late '90s are now preparing to go to universities. The government estimates that there will be 250,000 students in the post-secondary system in a decade. In Britain, funding for teaching has become more dependent on student tuition, as direct government support decreased, causing a chilling effect elsewhere. UK universities are wary of getting on board the mooc train. About once a fortnight Matt Robb, senior principal at consulting firm Parthenon, has a conversation with a financier who wants to inject serious finance into a British university.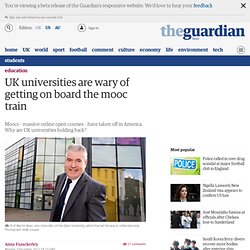 According to Robb, the right idea could net finance of between £50m and £100m. Yet this isn't about new lecture halls or research facilities. Financiers are hearing stories about a global revolution in online learning in the US, and they are eager for that revolution to catch on over here. But so far they have been disappointed. Which University? The One With Good News or the One Which is Open and Transparent? I came across the news first on Twitter from the @timeshighered account: Which?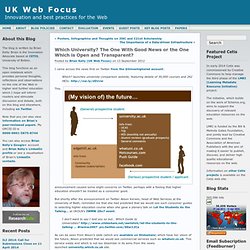 Launches university comparison website, featuring details of 30,000 courses and 262 HEIs: This announcement caused some slight concerns on Twitter, perhaps with a feeling that higher education shouldn't be treated as a consumer good. Discussion Forum. Taking the Plunge | Community engagement: We need to deepen the discourse. Community engagement: We need to deepen the discourse Posted on September 18, 2012 by Margo Fryer Community engagement is a hot topic in the postsecondary world in Canada.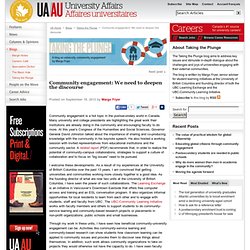 Many university and college presidents are highlighting the great work their institutions are already doing in the community and encouraging faculty to do more. At this year's Congress of the Humanities and Social Sciences, Governor General David Johnston talked about the importance of sharing and co-producing knowledge with the community in his keynote speech. He also hosted a working session with invited representatives from educational institutions and the community sector.
The future of universities is all doom and gloom. The future of universities is all doom and gloom Posted on 6 November 2012 by Léo Charbonneau Doom to the left, gloom to the right.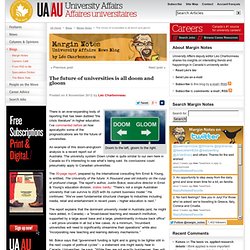 Expansion by Big Ten May Bring Small Payoff. Nick Wass/Associated PressMaryland plays in a state with low avidity for college football.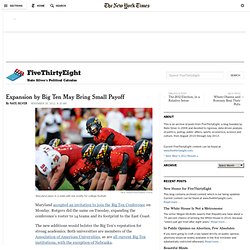 Maryland accepted an invitation to join the Big Ten Conference on Monday. Rutgers did the same on Tuesday, expanding the conference's roster to 14 teams and its footprint to the East Coast. The new additions would bolster the Big Ten's reputation for strong academics. Both universities are members of the Association of American Universities, as are all current Big Ten institutions, with the exception of Nebraska. How does South Korea outpace the U.S. in engineering degrees?
By Michael Alison Chandler DAEJON, South Korea—Any eighth-grader who wonders if anyone actually uses algebra should ask Hyungtae Lee, an electrical engineer who writes algorithms to build computers with the power of human sight.
It's a skill he learned first here in South Korea, where undergraduate students are five times more likely to major in engineering than their counterparts in the United States. Lessons From Abroad. How many Indian and Chinese students go abroad every year? | DrEducation: International Higher Education Blog by Rahul Choudaha, PhD. How many Indian and Chinese students go overseas to study every year?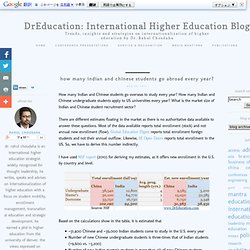 How many Indian and Chinese undergraduate students apply to US universities every year? What is the market size of Indian and Chinese student recruitment sector? There are different estimates floating in the market as there is no authoritative data available to answer these questions. How China Saved International Student Enrollment in the US? | DrEducation: International Higher Education Blog by Rahul Choudaha, PhD. Growth of Chinese students enrolling in global higher education systems is no news.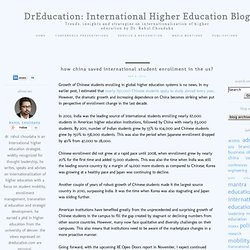 In my earlier post, I estimated that nearly 750,000 Chinese students apply to study abroad every year. However, the dramatic growth and increasing dependence on China becomes striking when put in perspective of enrollment change in the last decade. Can Canada's schools pass the next great intelligence test? Her mom wanted her to go into science and become a pharmacist.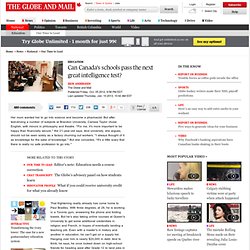 But after test-driving a number of subjects at Brandon University, Carissa Taylor chose English, with minors in philosophy and theatre. "For me, it's more important to be happy than financially secure," the 21-year-old says. Vote: How relevant is Canadian higher education? Canadian Virtual University - Programs. What first-year students are reading. Common reading program starts at Queens. by Léo Charbonneau For the first time this fall at Queen's University, all first-year undergraduate students studying full time received a free copy of Eating Dirt by Charlotte Gill. Queen's thus joins a handful of other Canadian universities to offer common reading programs for incoming students. Students at Queen's were encouraged to read the book over the summer in preparation for a variety of discussion sessions held over orientation week. Brave new buildings. At universities across the country, scientists are happily leaving the isolation of their old labs and offices to discover the "intellectual collisions" in new collaborative spaces. by Moira Farr Don Schmitt sits in a glass-walled conference room at the downtown Toronto office of Diamond Schmitt Architects as images of recent academic buildings designed by the firm project onto a large screen, showing light-filled stairways, dramatic glass atria and sprawling lounge spaces.
The designs, he says, are rooted in his experiences decades ago as an undergraduate at the University of Toronto. The Most Educated Countries in the World. College graduation rates continued to improve around the world during the recession, according to a recent international economic study. In more developed countries, the percentage of adults with the equivalent of a college degree rose to more than 30% in 2010. In the United States, it was more than 40%, which is among the highest percentages in the world. Read: The Most Educated Countries in the World However, improvements in higher education are harder to achieve in these countries.
Colleges Rise Up. When Chantelle Hamilton graduated from high school in 2004, the thought of attending college never crossed her mind. "My perception was that failures went to college," she says. "I thought: you go to college if you can't get good enough grades to go to university." But after more than two years studying biology at the University of Guelph, Hamilton, 27, was frustrated with lecture halls and laboratories. "I'm a super hands-on person," she explains. The future of universities is all doom and gloom. 2020 Science — Providing a clear perspective on developing science and technology responsibly. DrEducation: International Higher Education Blog by Rahul Choudaha, PhD. International educators consider the future of the field. How PISA Rankings Could Make Or Break A Country's Education System. The Future of Education: EPIC 2020. Directorate for Education. Dr. Brian C. Mitchell: Strengthening the Pathway to Higher Education. Welcome to the Coundon Court Website.
Deadset? MOOCs and Australian education in a globalised world. Massive Open Online Courses in the Developing World.
---