Debmorrison
Debbie Morrison
How was it? The UK's first Coursera Moocs assessed | News. No talking heads: students expected lectures to camera, says Siân Bayne Results may vary Sheila MacNeill, Jo Stroud, Shazia Arif and Imogen Bertin were among the 42,000 students who signed up to the course.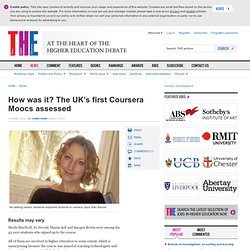 All of them are involved in higher education to some extent, which is unsurprising because the course was aimed at learning technologists and those with an interest in digital education. Of the four, only MacNeill saw the course through to its conclusion, although that does not mean that the others took nothing from the experience. Stroud, a learning technologist at the London School of Economics' Centre for Learning Technology, was typical of many. Why Getting an M.B.A. Isn't Worth It. Encyclopædia Britannica's President on Killing Off a 244-Year-Old Product.
Photography: Encyclopædia Britannica, Inc.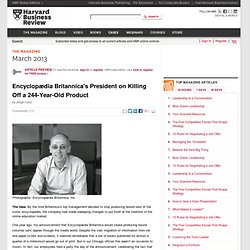 The Idea: By the time Britannica's top management decided to stop producing bound sets of the iconic encyclopedia, the company had made sweeping changes to put itself at the forefront of the online education market. One year ago, my announcement that Encyclopædia Britannica would cease producing bound volumes sent ripples through the media world. Despite the vast migration of information from ink and paper to bits and screens, it seemed remarkable that a set of books published for almost a quarter of a millennium would go out of print.
"NO FUTURE, NO FUTURE, NO FUTURE FOR YOU." « More or Less Bunk. "Fifteen years from now more than half of the universities will be in bankruptcy, including the state schools.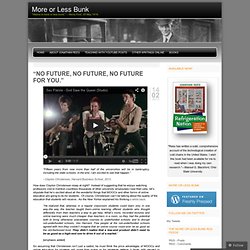 In the end, I am excited to see that happen."- Clayton Christensen, Harvard Business School, 2013. How does Clayton Christensen sleep at night? Instead of suggesting that he enjoys watching professors (not to mention countless thousands of other university employees) lose their jobs, let's stipulate that he's excited about all the wonderful things that MOOCs and other forms of online education are going to do for students.
K12 Education. Online Learning. Learning Analytics. Social Media. Learning Theories. Active Learning Theory. International Educuation.
K12 International ED. Open Resources. Higher Ed issues. Financial_Loans.
College Readiness Gap. Of Interest. Trends in ET. Tools_Applications. MOOCs. CFHE12. LOER12. #etmooc. #edmooc_Cousera. E-Learning and Digital Cultures. MOOC_ course_Development. Blogs. Research: youth sports.
Personal Learning Environments. Online Journals/Magazines.
---
debmorrison May 15 2012

Great! Thanks I love Pearltrees so far! I have used the software Inspiration before, and this is quite similar. Thanks again.
---