Social Media Strategies
Is Social Media Dying? | The Fight Against Destructive Spin. By: Gini Dietrich | June 22, 2010 | Guest blog by Patrick Reyes, the digital strategy and analysis manager for Buick and GMC.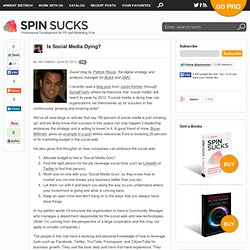 I recently read a blog post from Justin Kistner (through SocialFresh) where he theorizes that "social media" will reach its peak by 2012. If social media is dying how can organizations set themselves up for success in this continuously growing and evolving area? What Makes Up a Social Marketing Strategy? It's quickly becoming common wisdom among marketers that a strategy is needed to use social media effectively.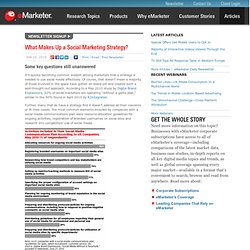 Of course, that doesn't mean a majority of those involved in the space have gotten on board yet and created such a well-thought-out approach. According to a May 2010 study by Digital Brand Expressions, 52% of social marketers are operating "without a game plan," similar to the 50% found in April 2010 by R2integrated. Further, many that do have a strategy find it doesn't address all their concerns or fit their needs. The most common elements included by companies with a social media communications plan were resource-allocation guidelines for ongoing activities, registration of branded usernames on social sites and research into competitors' use of social media.
10 Ways To Put Your Website Content In Front Of More People and. Which is more important, driving traffic to your website or encouraging as many people as possible to see your content?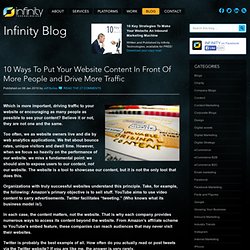 Believe it or not, they are not one and the same. Too often, we as website owners live and die by web analytics applications. We fret about bounce rates, unique visitors and dwell time. However, when we focus so heavily on the performance of our website, we miss a fundamental point: we should aim to expose users to our content, not our website.
The website is a tool to showcase our content, but it is not the only tool that does this.
Medical Industry
Conversation Strategies.
---