Social Media Impact
How Insurance Companies Will Influence Rates Based On Your Tweet. Expect insurance and wellness companies to monitor social data, then reward –and penalize member actions.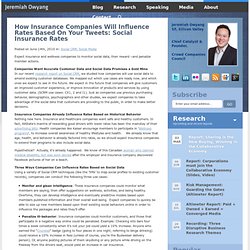 Companies Want Accurate Customer Data and Social Data Promises a Gold Mine In our recent research report on Social CRM, we studied how companies will use social data to amend existing customer databases. We mapped out which use cases are ready now, and which ones we expect to see in the future. We expect in the future that companies will give customers an improved customer experience, or improve innovation of products and services by using customer data. (SCRM use cases: CX1, 2 and I1). Why Small Businesses Shouldn't Take Social Media for Granted.
This post originally appeared on the American Express OPEN Forum, where Mashable regularly contributes articles about leveraging social media and technology in small business.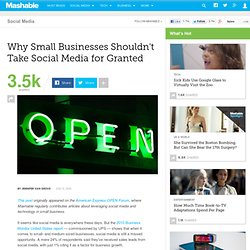 It seems like social media is everywhere these days. But the 2010 Business Monitor United States report — commissioned by UPS — shows that when it comes to small- and medium-sized businesses, social media is still a missed opportunity. A mere 24% of respondents said they've received sales leads from social media, with just 1% citing it as a factor for business growth. The data would appear to indicate that in spite of all the positive press that social media gets, and all the use cases we've seen emerge over the past few years, small business owners are taking social media for granted.
Gatorade's Social Media Command Center. If you're new here or just an old friend, I'd love it if you subscribed via RSS feed.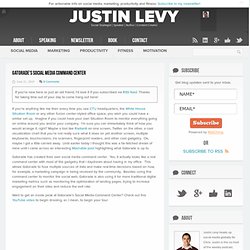 Thanks for taking time out of your day to come hang out here! 0inShareinShare If you're anything like me then every time you see CTU headquarters, the White House Situation Room or any other fusion center-styled office space, you wish you could have a similar set up. Imagine if you could have your own Situation Room to monitor everything going on online around you and/or your company. When Social Media Becomes The Message: The Gulf Oil Spill And @B. How Social Media Has Radically Altered Advertising. Hank Wasiak is a partner at the creative firm The Concept Farm, and the best selling author of the Asset-Based Thinking book series.
He is a three-time Emmy award winning TV host, a teacher at USC's Graduate School of Business, and a Reiki Master. Social Media started out as a bit of a novelty — a playground for the "geekerati. " But it has taken hold as a game changing force that will reshape advertising at its very core. It's time to move past debates about traditional media co-existing with social media.
---