Social Good
Looking for Bold Ideas to Fix the City, New York Turns to Crowd Sourcing | Co.Design. If anybody needs a feel-good moment in this winter of our discontent, it's Michael Bloomberg.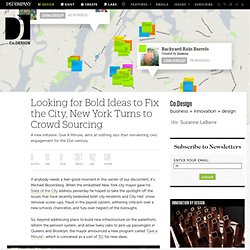 When the embattled New York city mayor gave his State of the City address yesterday he hoped to take the spotlight off the issues that have recently bedeviled both city residents and City Hall: snow removal screw-ups, fraud in the payroll system, withering criticism over a new schools chancellor, and fury over neglect of the boroughs. So, beyond addressing plans to build new infrastructure on the waterfront, reform the pension system, and allow livery cabs to pick up passengers in Queens and Brooklyn, the mayor announced a new program called "Give a Minute", which is conceived as a sort of 311 for new ideas.
5 Trends Shaping the Future of Social Good. Social media has had a profound effect on the way social good organizations approach global problems.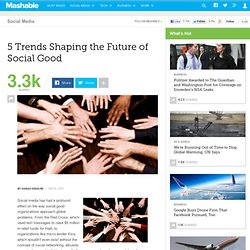 From the Red Cross, which used text messages to raise $5 million in relief funds for Haiti, to organizations like micro-lender Kiva, which wouldn't even exist without the concept of social networking, altruistic organizations and individuals are finding new ways to embrace social media. In preparation for our Social Good Summit next week, we asked social good experts about trends that will shape the way we use social media for positive change in the future. Here's what they had to say. 1. Crowdsourcing. ICT for peace foundation » Peacebuilding in the Information Age: Sifting Hype from Reality. 11.1.11, Switzerland: The ICT4Peace Foundation, in collaboration with the Berkman Center for Internet and Society at Harvard University and GeorgiaTech, is pleased to release, on the occasion of the anniversary of the devastating earthquake in Haiti, the first in a series of papers looking at the increasingly important role of information and communication technology (ICT) in conflict prevention, peacebuilding, peacekeeping and crisis response.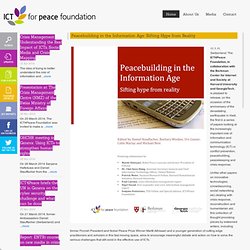 Unlike other papers on innovative technologies (crowdsourcing, social networking etc) dealing with crisis response, reconstruction and humanitarian aid, this collection of thought provoking pieces by esteemed writers, including former Finnish President and Nobel Peace Prize Winner Martti Athisaari and a younger generation of cutting edge practitioners and scholars in this fast moving space, aims to encourage meaningful debate and action on how to solve the serious challenges that still exist in the effective use of ICTs.
Social Good: Charity and Technology in the Online Universe [INFOGRAPHIC] Shane Snow is a technology journalist in New York City.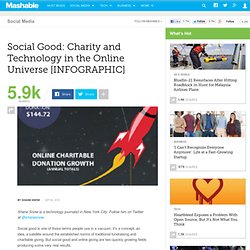 Follow him on Twitter at @shanesnow. Social good is one of those terms people use in a vacuum; it's a concept, an idea, a satellite around the established norms of traditional fundraising and charitable giving. But social good and online giving are two quickly growing fields producing some very real results. 10 Ways to Start a Fund for Social Good Online. Fundraising is a key component for most social good campaigns and projects.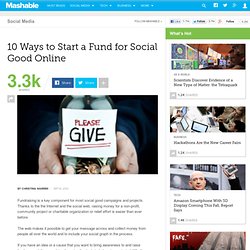 Thanks to the the Internet and the social web, raising money for a non-profit, community project or charitable organization or relief effort is easier than ever before. The web makes it possible to get your message across and collect money from people all over the world and to include your social graph in the process. If you have an idea or a cause that you want to bring awareness to and raise funds around, there are lots of great online tools to help get you started.
3 Small Cause Campaigns That Won Big With Social Media. Frank Barry, professional services manager at Blackbaud and blogger at NetWits ThinkTank, helps non-profits use the Internet for digital communication, social media, and fundraising so they can focus on making an impact and achieving their missions.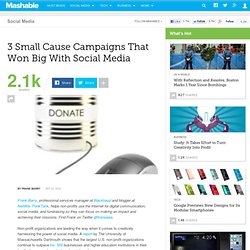 Find Frank on Twitter @franswaa. Non-profit organizations are leading the way when it comes to creatively harnessing the power of social media. A report by The University of Massachusetts Dartmouth shows that the largest U.S. non-profit organizations continue to outpace Inc. 500 businesses and higher education institutions in their familiarity, use and monitoring of social media.
---