ROI
What's the R.O.I.? A Framework for Social Analytics Brian Solis. InShare616 "Not everything that can be counted counts, and not everything that counts can be counted." - Albert Einstein Say hello to my little friends, R.O.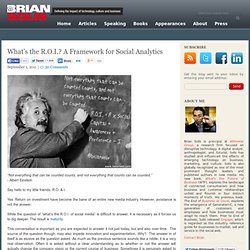 & I. Yes. Return on investment have become the bane of an entire new media industry. However, avoidance is not the answer. 10 Measures of Social Media ROI for Your Brand. It's essential that companies clarify success metrics before launching their social media marketing and advertising initiatives.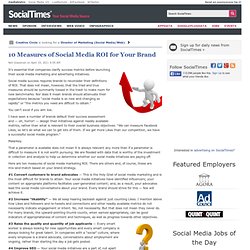 Social media success requires brands to reconsider their definitions of ROI. That does not mean, however, that the tried and true measures should be summarily tossed in the trash to make room for new benchmarks. Nor does it mean brands should attenuate their expectations because "social media is so new and changing so rapidly" or "the metrics you need are difficult to obtain." You can't excel if you aim low. The ABCs of Social Media ROI. Dramatic Difference in Approach to Social Media Metrics. Marketers appear to be inching closer to answering the question of social media ROI—or at least making a serious effort—as the stakes get higher. eMarketer estimates four out of five US businesses with at least 100 employees will be marketing on social media this year, and US ad spending on social networks is expected to reach over $3 billion.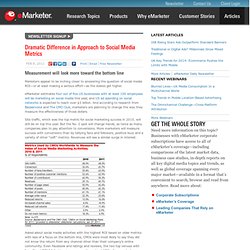 And according to research from Bazaarvoice and The CMO Club, marketers are planning to change the way they measure the effectiveness of those dollars. Framework: The Social Media ROI Pyramid. Often, our industry can appear complicated, and yearns for simplicity.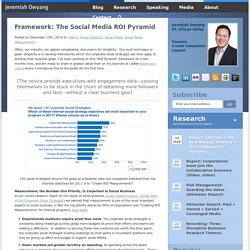 One such technique to glean simplicity is to develop frameworks which the corporate social strategist can then apply to achieve their business goals. I've been working on this "ROI Pyramid" framework for a few months now, and am ready to share in greater detail than on my keynote at LeWeb (slides and video) where I introduced this to the public for the first time. [The novice provide executives with engagement data --causing themselves to be stuck in the churn of obtaining more followers and fans --without a clear business goal] Factiva Social Media Roundtable helps to answer "What should we measure" Summary Last night, Factiva hosted a group of Social Media Practitioners, Bloggers, Corporate Program Managers, PR consultants, room in Palo Alto to try to make sense of Social Media Measurement.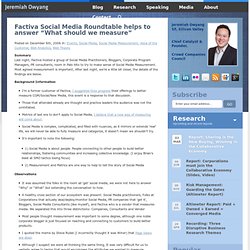 Most agreed measurement is important, After last night, we're a little bit closer, the details of the findings are below. Background Information I'm a former customer of Factiva, I suggested they progress their offerings to better measure CGM/Social/New Media, this event is a response to that discussion.Those that attended already are thought and practice leaders the audience was not the uninitiated.Metrics of last era to don't apply to Social Media, I believe that a new way of measuring will come about.Social Media is complex, complicated, and filled with nuances, as it mirrors or extends 'real' life, we will never be able to fully measure and categorize, it doesn't mean we shouldn't try.It's important to note the following:1) Social Media is about people.
HOW TO: Calculate the ROI of Your Social Media Campaign. Jamie Turner is the chief content officer of the 60 Second Marketer, the online magazine for BKV Digital and Direct Response.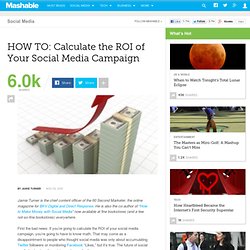 He is also the co-author of "How to Make Money with Social Media" now available at fine bookstores (and a few not-so-fine bookstores) everywhere. First the bad news: If you're going to calculate the ROI of your social media campaign, you're going to have to know math. That may come as a disappointment to people who thought social media was only about accumulating Twitter followers or monitoring Facebook "Likes," but it's true. HOW TO: Evaluate Your Social Media Plan. Meaghan Edelstein has gained national media attention through her blog, I Kicked Cancer's Ass, which she started to document her battle with end stage cancer.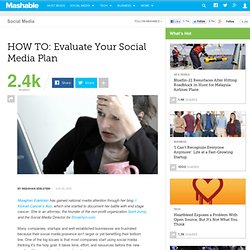 She is an attorney, the founder of the non-profit organization Spirit Jump, and the Social Media Director for Smashyn.com. Many companies, startups and well established businesses are frustrated because their social media presence isn't larger or yet benefiting their bottom line. One of the big issues is that most companies start using social media thinking it's the holy grail.
It takes time, effort, and resources before this new media will have an impact on you brand. Evaluating the Effectiveness of Modern Strategies. Social media Web sites like Facebook and Twitter began as networking hubs for friends and family members.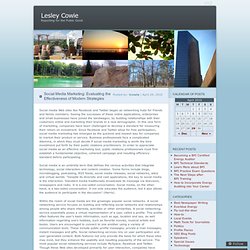 Seeing the successes of these online applications, enterprises and small businesses have joined the bandwagon, by building relationships with their customers online and marketing their brands to a new demographic. In this new form of marketing, companies have been challenged to develop a standard for measuring their return on investment. Since Facebook and Twitter allow for free participation, social media marketing has emerged as the quickest and easiest way for companies to market their product or service. Business professionals face a complicated dilemma, in which they must decide if social media marketing is worth the time investment put forth by their public relations practitioners.
---