FourSquare
How Companies Are Using Data from Foursquare. When Foursquare began, it was easy to wonder what the point was beyond the game.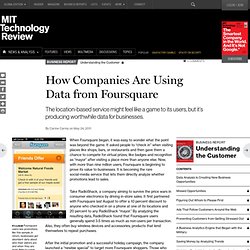 It asked people to "check in" when visiting places like shops, bars, or restaurants and then gave them a chance to compete for virtual prizes, like badges and recognition as "mayor" after visiting a place more than anyone else. Now, with more than nine million users, Foursquare is beginning to prove its value to businesses. It is becoming the rare social-media service that lets them directly analyze whether promotions lead to sales. Take RadioShack, a company aiming to survive the price wars in consumer electronics by driving in-store sales. It first partnered with Foursquare last August to offer a 10 percent discount to anyone who checked in on a phone at one of its locations and 20 percent to any RadioShack "mayor."
A chance to audition your own TED Talk! NEW: Video auditions are closed; thank you for entering!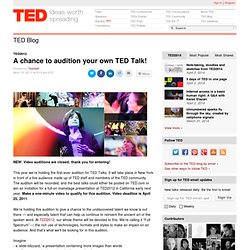 This year we're holding the first-ever audition for TED Talks. It will take place in New York in front of a live audience made up of TED staff and members of the TED community. The audition will be recorded, and the best talks could either be posted on TED.com or win an invitation for a full-on mainstage presentation at TED2012 in California early next year. Make a one-minute video to qualify for this audition.
Video deadline is April 25, 2011. Marni Salup: Foursquare: A Branding Tool? Where is the value in foursquare as a mobile PR and branding channel?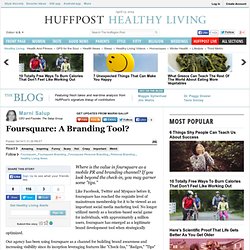 If you look beyond the check-in, you may garner some "tips. " Like Facebook, Twitter and Myspace before it, foursquare has reached the requisite level of mainstream membership for it to be viewed as an important social media marketing tool. No longer utilized merely as a location-based social game for individuals, with approximately 4 million users, foursquare has emerged as a legitimate brand development tool when strategically optimized.
Our agency has been using foursquare as a channel for building brand awareness and increasing visibility since its inception leveraging features like "Check-Ins," "Badges," "Tips" and "Venue Partners. " The popular location-based mobile social gaming applications' "Tips" feature is quickly proving to be a useful branding tool. Social Point of Sale: The Holy Grail for Location-Based Marketers. Zachary Adam Cohen runs ZAC, Digital Agency, a boutique digital strategy firm in New York City, working with brands and businesses to re-equip themselves for success in the 21st century.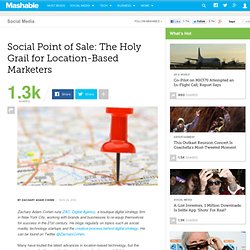 He blogs regularly on topics such as social media, technology startups and the creative process behind digital strategy. He can be found on Twitter @ZacharyCohen. Many have touted the latest advances in location-based technology, but the news is mostly disappointing for marketers, advertisers and digital gurus. Gap Wants You to "Add to Foursquare" in New Online Ad Campaign. Gap and Foursquare's love affair has taken a new turn this morning, with the retailer debuting an ad campaign featuring interactive "Add to Foursquare" buttons integrated within online ads.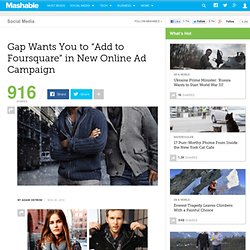 The ads — which are running on a wide variety of sites including Mashable, Gawker and Conde Nast properties — feature Gap holiday fashions and deals along with the Foursquare button, which when clicked, adds a Gap to-do and enables a 30% discount on one regular priced Gap item. The ads are location-aware too; users will be able to associate the to-do with a nearby store and be reminded of it when they're nearby and pull up "Places" within Foursquare. Gap will also be donating $1 for each add to Foursquare's charity of choice — Camp Interactive — as part of the campaign. We're starting to see more and more social integrations within banner ads — most commonly perhaps in the form of Facebook "like" buttons — but this is the first time we've seen it with Foursquare as the call to action. Foursquare Targets College Students with New Universities Program. Foursquare announced the rollout its Foursquare for Universities program Thursday afternoon, designed to help students, alumni and staff share information about classes, building hours, campus activities and traditions, and other information.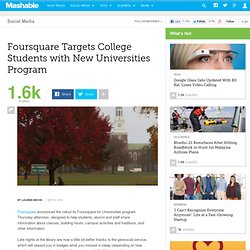 Late nights at the library are now a little bit better thanks to the geosocial service, which will reward you in badges what you missed in sleep (depending on how much value you put on virtual badges, anyways). And if you start to see more compsci majors at the Homecoming football game this season, you can thank Foursquare's school spirit badge for that, too. The startup has partnered with 20 universities for the launch, along with student ambassadors located at several dozen others. If your university isn't one of them, however, don't despair; Foursquare makes it easy for users to claim and build a university page on the service with a short questionnaire. McDonald's Foursquare Day Campaign Brought in 33% More Foot Traffic. Update: McDonald's head of social media Rick Wion tweeted that, "the 33% increase was in the number of checkins.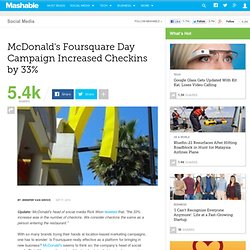 We consider checkins the same as a person entering the restaurant. " With so many brands trying their hands at location-based marketing campaigns, one has to wonder: Is Foursquare really effective as a platform for bringing in new business? McDonald's seems to think so; the company's head of social media Rick Wion recently spoke of the fast food giant's big wins from a spring pilot program using Foursquare. At the Mobile Social Communications conference yesterday, Wion shared that McDonald's was able to increase foot traffic to stores by 33% in one day with a little Foursquare ingenuity. Washington Redskins Tackle Foursquare. Football season is here, and while NFL teams take to the field and battle it out each Sunday in the hopes of becoming the next Super Bowl champion, another battle is brewing off the field — the location app battle for fan checkins.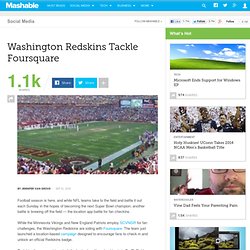 While the Minnesota Vikings and New England Patriots employ SCVNGR for fan challenges, the Washington Redskins are siding with Foursquare. The team just launched a location-based campaign designed to encourage fans to check in and unlock an official Redskins badge. Redskins fans can opt to unlock the badge by either checking in to FedExField or checking in on three separate occasions at featured Redskins bars in the Washington D.C. area. Fans that play the Foursquare game will also uncover tips from the team. Fans not lured to Foursquare by the promise of a new badge may change their mind once they find about the grand prize — two loge tickets and pre-game field passes. How Businesses are Utilizing Foursquare. This post was written by Jenny Urbano, our Social Media Manager.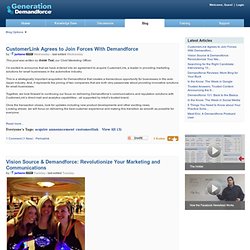 Here at Demandforce, we love seeing and celebrating your ideas! And more than that, we love to hear from YOU. We want to bridge the gap between us and you, so that's why we're offering a once in a lifetime opportunity to win a trip to San Francisco, sightsee in this amazing city, visit Demandforce headquarters and share your ideas with us! 6 winners, and a guest of their choice will be flown out to San Francisco, California on March 12-14th, 2014, where they will stay in Union Square, spend a day at Demandforce, have dinner with the team, and explore the lovely City by the Bay!
Foursquare Reaches 100 Million Checkins. Foursquare passed a big milestone yesterday: 100 million checkins.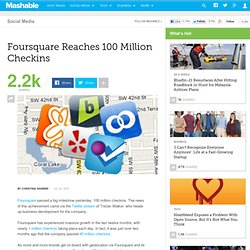 The news of this achievement came via the Twitter stream of Tristan Walker, who heads up business development for the company. Foursquare has experienced massive growth in the last twelve months, with nearly 1 million checkins taking place each day. In fact, it was just over two months ago that the company passed 40 million checkins.As more and more brands get on board with geolocation via Foursquare and its competitors, which include Loopt, Gowalla and Brightkite, mainstream exposure to the services and the idea of location-based networking is increasing all the time. Foursquare Crosses 2 Million Users. It appears that Foursquare has just crossed the 2 million users mark this morning.
The location based social network has been growing fast, adding 100,000 users per week. Only three months ago, Foursquare passed one million users after taking a year to accumulate one million members. Over the past several months, Foursquare has had a number of impressive stats for a startup. Some of them involved SXSW, some involved overall check-ins numbers. New Verizon Commercial Is Foursquare Obsessed. Foursquare has gotten some pretty big publicity before — like in Vegas. But a new Verizon commercial appears to be completely predicated around the service. Well, provided you know what Foursquare is. As you can see in the 30-second spot embedded below, a girl is walking around a city on her Verizon Droid phone.
She pulls it out of her pocket, starts walking, and immediately begins using the device. So what's she using on it? Mayors of Sports Authority Get $10 Cash Cards on Foursquare. Hey sports aficionados, how does saving $10 at Sports Authority stores nationwide sound? Probably a little too good to be true, but for mayors of the sporting goods retail chain on Foursquare, this discount is a reality. On Monday, Sports Authority kicked off its Foursquare mayor special. The promotion rewards mayors at its 463 retail venues with $10 Cash Cards.
---