FourSquare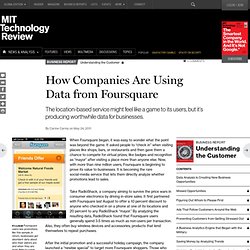 When Foursquare began, it was easy to wonder what the point was beyond the game. It asked people to "check in" when visiting places like shops, bars, or restaurants and then gave them a chance to compete for virtual prizes, like badges and recognition as "mayor" after visiting a place more than anyone else. Now, with more than nine million users, Foursquare is beginning to prove its value to businesses. It is becoming the rare social-media service that lets them directly analyze whether promotions lead to sales. Take RadioShack, a company aiming to survive the price wars in consumer electronics by driving in-store sales. It first partnered with Foursquare last August to offer a 10 percent discount to anyone who checked in on a phone at one of its locations and 20 percent to any RadioShack "mayor."
How Companies Are Using Data from Foursquare
NEW: Video auditions are closed; thank you for entering! This year we're holding the first-ever audition for TED Talks.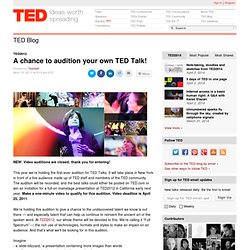 A chance to audition your own TED Talk!
Where is the value in foursquare as a mobile PR and branding channel? If you look beyond the check-in, you may garner some "tips."
Marni Salup: Foursquare: A Branding Tool?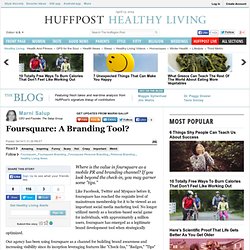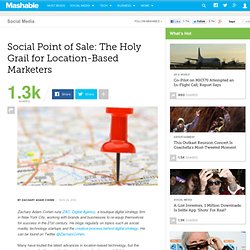 Zachary Adam Cohen runs ZAC, Digital Agency, a boutique digital strategy firm in New York City, working with brands and businesses to re-equip themselves for success in the 21st century.
Social Point of Sale: The Holy Grail for Location-Based Marketers
Gap and Foursquare's love affair has taken a new turn this morning, with the retailer debuting an ad campaign featuring interactive "Add to Foursquare" buttons integrated within online ads. The ads — which are running on a wide variety of sites including Mashable, Gawker and Conde Nast properties — feature Gap holiday fashions and deals along with the Foursquare button, which when clicked, adds a Gap to-do and enables a 30% discount on one regular priced Gap item.
Gap Wants You to "Add to Foursquare" in New Online Ad Campaign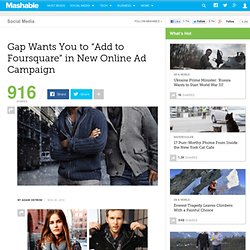 Foursquare Targets College Students with New Universities Program
Foursquare announced the rollout its Foursquare for Universities program Thursday afternoon, designed to help students, alumni and staff share information about classes, building hours, campus activities and traditions, and other information.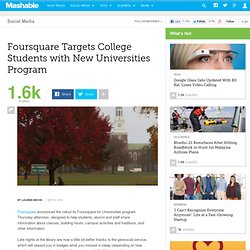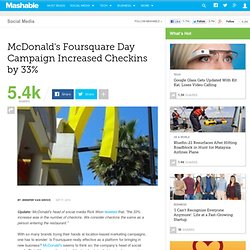 McDonald's Foursquare Day Campaign Brought in 33% More Foot Traffic
Update: McDonald's head of social media Rick Wion tweeted that, "the 33% increase was in the number of checkins.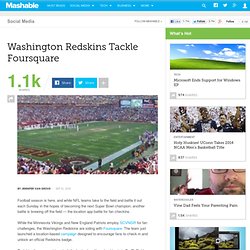 Washington Redskins Tackle Foursquare
Football season is here, and while NFL teams take to the field and battle it out each Sunday in the hopes of becoming the next Super Bowl champion, another battle is brewing off the field — the location app battle for fan checkins. While the Minnesota Vikings and New England Patriots employ SCVNGR for fan challenges, the Washington Redskins are siding with Foursquare.
This post was written by Annie Tsai, our Chief Marketing Officer.
How Businesses are Utilizing Foursquare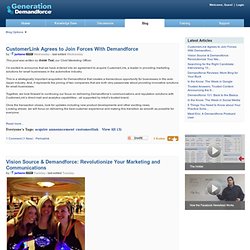 Foursquare Reaches 100 Million Checkins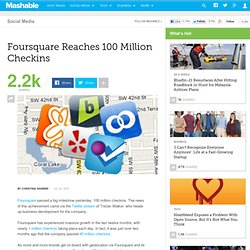 Foursquare passed a big milestone yesterday: 100 million checkins.
It appears that Foursquare has just crossed the 2 million users mark this morning.
Foursquare Crosses 2 Million Users
Foursquare has gotten some pretty big publicity before — like in Vegas. But a new Verizon commercial appears to be completely predicated around the service.
New Verizon Commercial Is Foursquare Obsessed
Mayors of Sports Authority Get $10 Cash Cards on Foursquare
Hey sports aficionados, how does saving $10 at Sports Authority stores nationwide sound?