Logistique Start-up
A/B testing / Landing pages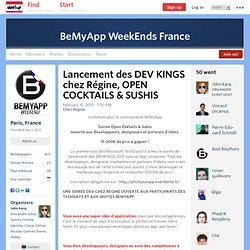 February 12, 2013 · 7:30 PM Invitation pour la communauté BeMyApp Soirée Open Coktails & Suhis ouverte aux développeurs, designeurs et porteurs d'idées.
Lancement des DEV KINGS chez Régine, OPEN COCKTAILS & SUSHIS - BeMyApp WeekEnds France (Paris
The Lean Startup | Case Studies
Launching Tech Ventures: Part IV, Readings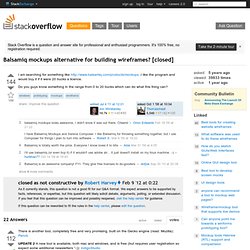 Pencil Open source and Free, the Pencil Project is a great tool for making diagrams and GUI prototyping that everyone can use. It runs as either a Firefox plugin or in a standalone XUL runner. Does not work on Mac currently. http://pencil.evolus.vn/ HotGloo
windows - Balsamiq mockups alternative for building wireframes
Launching Tech Ventures: Part III, Tools & Techniques
Voilà… le grand jour est enfin arrivé ! Le grand jour pour annoncer ce projet sur lequel je travaille depuis l'année dernière : La naissance de SkeelBox, Agence de Conseil & Stratégie E-commerce que j'ai fondé avec Benoit Gaillat. Cela fait plus de 2 ans que l'idée me trottait dans la tête. Mais il fallait trouver la bonne personne pour avancer concrètement. Le consulting e-commerce freelance, c'est très bien, mais j'ai rapidement trouvé mes limites. Outre le fait que travailler seul n'était pas vraiment ma tasse de thé, l'émulation d'équipe me manquait beaucoup, j'étais surtout frustré de ne pas pouvoir gérer plus de 5 ou 6 clients à la fois alors que j'avais régulièrement le double de demandes d'accompagnement.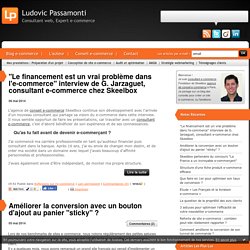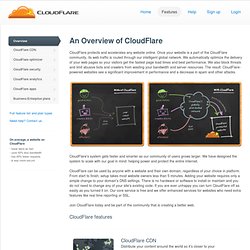 Performance, Security & Apps for Any Website | CloudFlare | Overview
CloudFlare protects and accelerates any website online. Once your website is a part of the CloudFlare community, its web traffic is routed through our intelligent global network. We automatically optimize the delivery of your web pages so your visitors get the fastest page load times and best performance. We also block threats and limit abusive bots and crawlers from wasting your bandwidth and server resources.
Smart Mailing Lists | ccLoop
We wanted to say thanks again for being one of the first to try out ccLoop. Unfortunately, we have decided to stop development on the ccLoop product. We have received a great deal of interest and positive feedback on the concept, however we saw a long and difficult path ahead to build ccLoop into a thriving business. We will shut down the ccLoop service permanently by December 15, 2011. We recommend you migrate your loops from ccLoop to another solution. A couple that we can recommend are: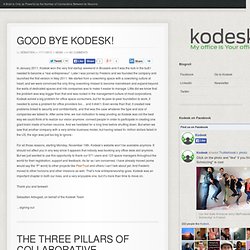 Peer-to-Peer Office Sharing - Kodesk - Peer-to-Peer Office Sharing - Kodesk
Ever since I discovered AirBnB, I have been fascinated by collaborative consumption and the potential it has to radically transform our economy and the very fabric of our society. I love the way Rachel Botsman characterizes it: Reputation over credit.Community over advertising.Shared access over individual ownership.