Crowdfunding
The Untold Story Behind Kickstarter Stats [INFOGRAPHIC] | Appsblogger.com. See the full infographic below.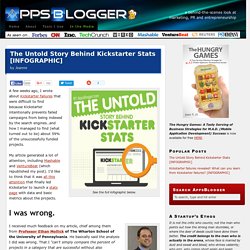 A few weeks ago, I wrote about Kickstarter failures that were difficult to find because Kickstarter intentionally prevents failed campaigns from being indexed by the search engines…and how I managed to find (what turned out to be) about 59% of the unsuccessfully funded projects. My article generated a lot of attention, including Mashable and VentureBeat (which republished my post). I'd like to think that it was all this attention that finally led Kickstarter to launch a stats page with data and basic metrics about the projects. Kickstartup — Successful fundraising with Kickstarter & the (re)making of Art Space Tokyo. It starts with a book.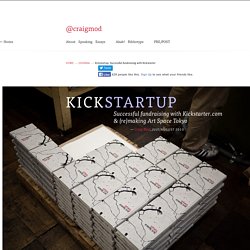 Art Space Tokyo is a book best described as a guide to some of the hidden galleries and museums in the city. Editor and co-author Ashley Rawlings and I put the book together in 2008. Trends in Pricing and Duration » The Kickstarter Blog. A couple of weeks ago we linked to Craig Mod's gorgeous and thorough breakdown of his Kickstarter project Art Space Tokyo.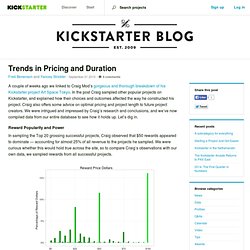 In the post Craig sampled other popular projects on Kickstarter, and explained how their choices and outcomes affected the way he constructed his project. Craig also offers some advice on optimal pricing and project length to future project creators. We were intrigued and impressed by Craig's research and conclusions, and we've now compiled data from our entire database to see how it holds up. Let's dig in. Reward Popularity and Power. Successful Kickstarter Campaigns. Kickstarter is an exciting, powerful crowd-sourcing tool that is quickly becoming a must-use for independent artists.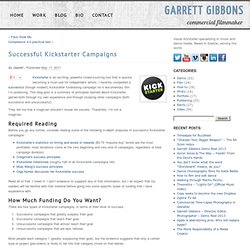 I recently completed a successful (though modest) Kickstarter fundraising campaign for a documentary film I'm producing. This blog post is a summary of principles learned about Kickstarter, gained both through my own experience and through studying other campaigns (both successful and unsuccessful). DIY Filmmaking Sucks: Secrets of successful IndieGoGo and Kickstarter crowdfunding. At Sundance this year, the DIY distribution guru Peter Broderick hosted a fast-paced overview of successful crowdfunded projects, sponsored by IndieGoGo.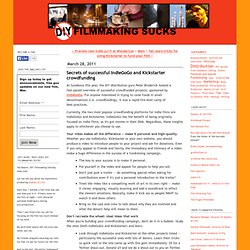 For anyone interested in trying to raise funds in small denominations (i.e. crowdfunding), it was a rapid-fire boot camp of best-practices. Currently, the two most popular crowdfunding platforms for indie films are IndieGoGo and Kickstarter. The Ultimate Crowdfunding TO-DO list: BEFORE YOU LAUNCH | Nathaniel Hansen - Filmmaker. 7 Things to Consider BEFORE you Launch your Kickstarter Project I get A LOT of requests to help with kickstarter campaigns.
Through trial and error on over a dozen kickstarter projects, hours of lectures at Emerson College, and countless meet ups, phone calls and emails with artists and innovators, I've refined a "best practices" list that I share when I decide to get involved with a project. What successful Kickstarter campaigns have in common. Kickstarter's unfortunate and inaccurate reputation of being a place where dreams get magically funded has been wholly corrected by recent media coverage.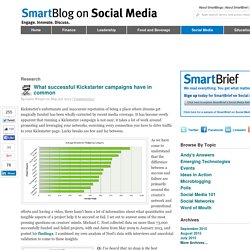 It has become overly apparent that running a Kickstarter campaign is not easy; it takes a lot of work around promoting and leveraging your networks, exercising every connection you have to drive traffic to your Kickstarter page. Lucky breaks are few and far between. As we have come to understand that the difference between a success and failure are primarily around the creator's network and promotional efforts and having a video, there hasn't been a lot of information about what quantitative and tangible aspects of a project help it to succeed or fail.
I set out to answer some of the most pressing questions on creators' minds. The hidden cost of Kickstarter success. "Crowdfunding isn't a magic bullet," Amanda Palmer once told the Daily Dot in regards to her blockbuster $1.1 million Kickstarter campaign.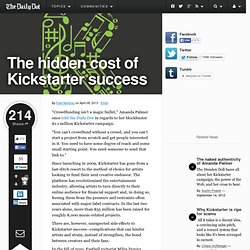 "You can't crowdfund without a crowd, and you can't start a project from scratch and get people interested in it. You need to have some degree of reach and some small starting point. Crowdfunding News and Tips 21 places to promote your kickstarter campaign. Want to get more traffic?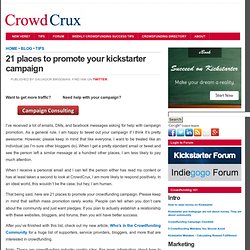 Need help with your campaign? I've received a lot of emails, DMs, and facebook messages asking for help with campaign promotion. How To Make A Kickass Kickstarter Video. Kickstarter has become the primary (and best) place to fund your independent, creative project.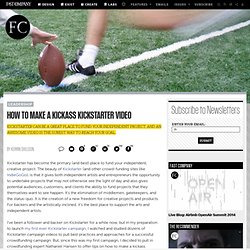 The beauty of Kickstarter (and other crowd-funding sites like IndieGoGo), is that it gives both independent artists and entrepreneurs the opportunity to undertake projects that may not otherwise see the light of day and also gives potential audiences, customers, and clients the ability to fund projects that they themselves want to see happen. It's the elimination of middlemen, gatekeepers, and the status-quo. Kicking Ass & Taking Donations: 9 Tips on Funding Your Kickstarter Project. Kickstarter is getting pretty hard to ignore. In 2011 alone, creatives used the crowdfunding platform to raise nearly $100 million for projects that ranged from feature-length films and industrial design products to print magazines and pop-up restaurants.
Over 11,000 projects successfully met their funding goals. So how can you use Kickstarter to get your creative endeavor off the ground? Hack Four: Prototype a Kickstarter Project. It's Not Just Luck: How to Succeed on Kickstarter. The 3Doodler is one of the biggest successes in Kickstarter history. They raised well over $2 million and sold over 25,000 of their 3D printing pens. We hung out with two of the founders this week in Hong Kong, and they shared valuable details on how they orchestrated their success. They won over the press. Hacking Kickstarter - Marketing tips for your campaign. Fine-Tune Your Kickstarter Campaign With These 12 Tools | Wired Design. The Elevation Dock was one of Kickstarter's first million-dollar projects and is now one of the first products on new crowdfunding marketplace Outgrow.me.Y Combinator, the premier startup launchpad, held its latest demo day this week, with crowdfunding as one of the big themes with this batch of startups.
New sites were launched for specific verticals: Microryza is crowdfunding scientific research grants, Teespring is creating a Threadless alternative, and Watsi is bringing the crowdfunding model to the developing world.Other demoing startups had no desire to compete with Kickstarter, but rather, complement it. BackerKit is trying to make the experience of running a project easier, while Swish makes searching for projects more fun. Kickstarter has recently announced some new tools to help make projects easier to manage, but a market is developing around them.Kickstarter is still the biggest thing in crowdfunding, but crowdfunding is much bigger than Kickstarter. Fine-Tune Your Kickstarter Campaign With These 12 Tools | Wired Design. Hit Thirty Early: Reaching the Tipping Point on Kickstarter. Kickstarter released a trove of interesting metrics covering their two-year history.
The big revelation? 90% of projects that reach 30% funding will succeed. That's a very low tipping point and just confirms my instinct that the "opening weekend" is a huge pacesetter for the rest of a fundraising campaign. So, here are some key takeaways: 15 Steps for a Successful Kickstarter Project » GMSarli Games. On Twitter, Gareth M. Skarka (@GMSkarka) asked me for some advice about a Kickstarter project he's planning, so I shared these lessons I learned from the e20 System project. This advice is largely oriented toward game design projects (since that's my experience), but most of this should apply to any Kickstarter project: 8 Best Practices for Kickstarter Campaigns. 3 Simple Steps to Creating the Perfect Kickstarter Video. About Kickspy. 10 Fresh Tips for Your Kickstarter Marketing Strategy.
RoBo 3D Printer by RoBo 3D Printer. Selfstarter. Manage Your Kickstarter Campaign With This Simple Dashboard. 9 Essential Steps for a Killer Kickstarter Campaign. Four Secrets To A Moneymaking Kickstarter Campaign. We Failed So You Don't Have To: Four Ways To Avoid A Lame Kickstarter Campaign.
Five Ways To Raise $2,000 A Minute On Kickstarter. Eight Crowdfunding Sites For Social Entrepreneurs. Hacking Kickstarter: How to Raise $100,000 in 10 Days (Includes Successful Templates, E-mails, etc.) Want A Kickstarter Video? That'll Cost Five Figures. Hack Four: Prototype a Kickstarter Project. 10 of the Most Clever Kickstarter Rewards. Kicktraq :: Kickstarter Project Tracking Swiss Army Knife of Awesome. How Memoto raised $500,000 on Kickstarter, part 1. | Memoto Blog. Projets au Top - Financez une App - AppsFunder. RocketHub.
Peerbackers | crowdfunding big ideas. Kapipal - Raise Money for Your Dreams! Welcome to INKUBATO. Crowdfunding, UK fundraising platform for creative & social projects | Crowdfunder. Collect Money Online — Online Fundraising with CreateaFund. Pozible | Crowdfunding Creativity. About Us | Peerbackers. Home - MicroVenture Marketplace Inc - Giving Small Businesses Big Opportunities. ChipIn. Make money with apps | App Wholesale Marketplace for App Developers | appbackr. Découvrez et soutenez des projets enthousiasmants. Misez sur les plus grands films bientôt à l'affiche - PeopleForCinema.
Untitled. BuzzMyBand - Label participatif et communautaire de production musicale. Kisskissbankbank : collectez des fonds pour réaliser vos projets. Donnez vie aux bonnes idées. Crowdsourcing for market research, innovation and brand development - Chaordix. FRIENDSCLEAR Pro | La communaute entre entrepreneurs et investisseurs. My Major Company - devenez producteur. Make good things happen. WiSEED | En cours de maintenance... Emprunter - prêt d'union- 1ère plateforme de crédit entre particuliers en France.
Personal Loans and Online Investing - Peer to Peer Lending. UK Loans - Get a great rate loan from Zopa Lenders. Crowdfunding. Sponsume | Fund your project through social networks. Loans that change lives. Le microcrédit solidaire efficace au service des micro-entrepreneurs. Mutuzz - Révélateur de talents ! IndieGoGo. Online Fundraising Website and Software for Events and Causes.
Crowdfunding Creativity. Using crowdfunding to help raise business investment for UK entrepreneurs. Crowd Funding your startup or product | Alchemy Equities. Quirky | social product development. Kickstarter. Crowdfunding for Your Business – ProFounder.
---