Online Tools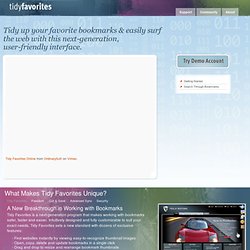 A New Breakthrough in Working with Bookmarks Tidy Favorites is a next-generation program that makes working with bookmarks safer, faster and easier. Intuitively designed and fully customizable to suit your exact needs, Tidy Favorites sets a new standard with dozens of exclusive features: - Find websites instantly by viewing easy-to-recognize thumbnail images - Open, copy, delete and update bookmarks in a single click - Drag and drop to resize and rearrange bookmark thumbnails - Add temporary links to a "stack" keeping your Tidy Favorites looking tidy - Search through your bookmarks or any website using a Search Panel - Use the same list of bookmarks in every browser - IE, Firefox, Opera, etc. The Freedom to Express Yourself!
Tidy Favorites
What is this? Introducing a new way to ease your browsing experience, take a couple of minutes to discover why you need Speedtile . Think about your favourite websites and all the backroads you use just to access them. Wouldn't it be an advantage if your homepage has them all categorized just the way you like it? Speedtile keeps track of your favourite websites.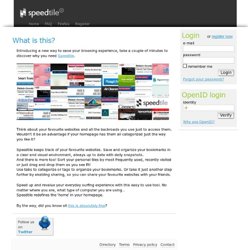 Favo | Smart bookmark management and collaboration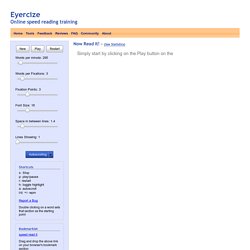 Simply start by clicking on the Play button on the left. Reading is that one activity that we do every day but we don't really practice. Most people learn the basics of reading in kindergarten and never graduate to the next levels. You are probably using the same basic rudimental tools and techniques that you learned when you were 6.