Web links for css and html
Tips for Effective Communication with Design Clients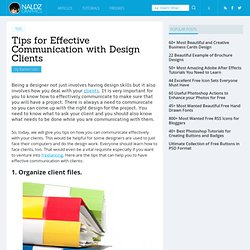 Being a designer not just involves having design skills but it also involves how you deal with your clients. It is very important for you to know how to effectively communicate to make sure that you will have a project. There is always a need to communicate so you can come up with the right design for the project.
HTML Tags
Don't Fear Starting From Scratch | Don't Fear the Internet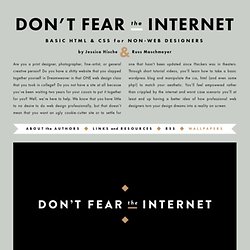 In this enlightening (and hunger-inducing) episode, we'll talk a bit about HTML code structure before we get into the meat of it (har har!) in upcoming episodes. Hey everyone! Welcome back for the next installment of Don't Fear the Internet!
HTML | Don't Fear the Internet
Learn
A proof-of-concept effect recreation of the animation seen in a prototype app by Marcus Eckert. The idea is to flip a grid item in 3D, expand it to fullscreen and reveal some associated content. We've created two demos with a vertical and a horizontal rotation. read more Some inspiration and ideas for item transitions considering different scenarios and use cases, including a small component, a full-width image header and a product image with a transparent background. State transitions are done using CSS Animations. read more A tutorial on how to recreate the slideshow seen on the FWA landing page with 3D effects involving random animations. read more
Blueprint is a CSS framework, which aims to cut down on your development time. It gives you a solid foundation to build your project on top of, with an easy-to-use grid, sensible typography, useful plugins, and even a stylesheet for printing. Download Now Latest version: 1.0.1 Last updated May 14, 2011 What does Blueprint have to offer? A CSS reset that eliminates the discrepancies across browsers.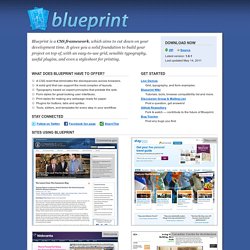 Save time. Create with confidence. ★ Analytics, icons, and more A lean, mobile-friendly HTML template; optimized Google Analytics snippet; placeholder touch-device icon; and docs covering dozens of extra tips and tricks.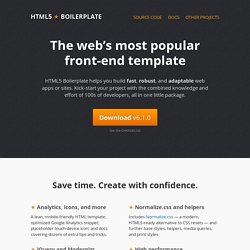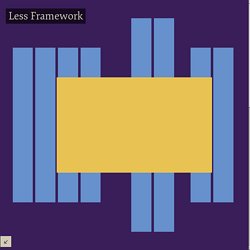 Every layout in Less Framework is based on a single grid, composed of 68 px columns with 24 px gutters. The only measures that change from layout to layout are the amount of columns and the width of the outer margins. The three sets of typography pre­sets are aligned to a 24 px baseline grid; one is based on 16 px body text, one on 17 px, and one on 18 px. Both sets contain several harmonious type sizes calculated using the Golden Ratio. Technically
Download - CSS, sketch paper, and templates for: Acorn, Fireworks, Flash, InDesign, GIMP, Inkscape, Illustrator, OmniGraffle, Photoshop, QuarkXPress, Visio, Exp Design. Repository at GitHub. Essence The 960 Grid System is an effort to streamline web development workflow by providing commonly used dimensions, based on a width of 960 pixels. There are two variants: 12 and 16 columns, which can be used separately or in tandem.