Technical
MySql
4.5.5 mysqlimport — A Dat. Backup and Restore MySQL Databases MySQL. Related Topics How To Backup MySQL Database Without PhpMyAdmin An phpMyAdmin alternative that helps you easily backup large MySQL databases.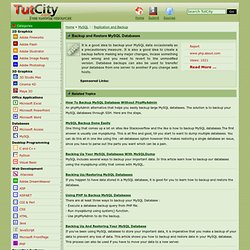 The solution is to backup your MySQL databases through SSH. MySQL Documentation. Solaris. Log Rotation in Solaris Using Logadm. Starting from Solaris 9, there is a standard tool, called logadm, to rotate logs.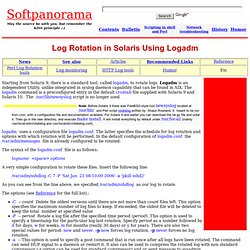 Logadm is an independent Utility, unlike integrated in syslog daemon capability that can be found in AIX. The logadm command is a preconfigured entry in the default crontab file supplied with Solaris 9 and Solaris 10. The /usr/lib/newsyslog script is no longer used. Note: Before Solaris 9 there was FreeBSD-style tool newsyslog located at /usr/lib/ and Perl script rotatelog written by Shaun Rowland. Solaris Tips and Tricks.
Goto: A B C D E F G H I J K L M N O P Q R S T U V W X Y Z HOME Accounts Backups.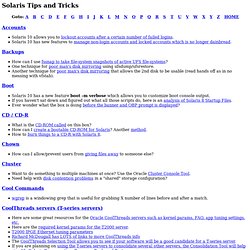 Software
Linux.
---