LEGENDAS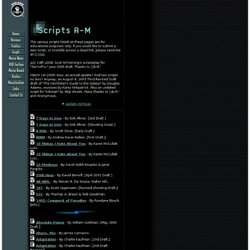 The various scripts listed on these pages are for educational purposes only. If you would like to submit a new script, or stumble across a dead link, please send me an E-Mail .
Scripts A-M
Free TV Show Transcripts & Movie Scripts
movie transcripts - numbers
10 Things I Hate About You by Karen McCullah Lutz, Kirsten Smith & William Shakespeare Host Site Awesome Movie Scripts The 13th Floor by Daniel Galouye & Josef Rusnak Host Site Sci-Fi & Fantasy Scripts 200 Motels by Tony Palmer & Frank Zappa Host Site FZ Lyrics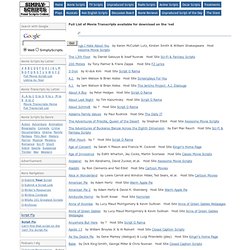 Complete listing of Movie Transcripts
Bridesmaids - undated, unspecified draft script by Annie Mumolo & Kristen Wiig - hosted by: Universal Pictures - in pdf format
Free Movie Scripts, Screenplays and Transcripts
Downloadable Movie Scripts, Screenplays and Transcripts
Daily Script - Movie Scripts and Movie Screenplays
NOVA | Transcripts | Ghost in Your Genes
PBS Airdate: October 16, 2007 Go to the companion Web site
Script Sites - Genre Sci Fi Sci Fi and Fantasy Scripts - Movie Script Site - Science Fiction and Fantasy Movie Scripts Leon's Script Collection - Movie Script Site - Quality Scripts - Classic Sci-Fi/Horror Sci-Fi Movie Scripts - Links to Sci Fi movie scripts and transcripts.
Movie Scripts and Screenplays Web Site