Itw
Andrew Stanton: The clues to a great story. JOHN CARTER: Director Andrew Stanton Interview Pt.1. 'John Carter' trailer: Director Andrew Stanton deconstructs it -- EXCLUSIVE. The teaser trailer for John Carter gave moviegoers a taste for the story of its title character, a Civil War vet (played by Friday Night Lights' Taylor Kitsch) who finds himself inexplicably plopped onto the war-ravaged surface of Mars.
The new full trailer, however, is our first real look at just how dangerous and exotic the planet really is, filled with hordes of hostile races of four-armed green men and tattooed red men, fearsome white apes and an oddly loveable frog-like dog (or is that dog-like frog?) , all of it from the imagination of author Edgar Rice Burroughs, who penned the "John Carter of Mars" series of books the film is based on nearly 100 years ago. James Purefoy Comments On His Role As 'Kantos Kan' In John Carter! Talking to Collider about his role in Ironclad, the British actor was quizzed on his role on Disney's John Carter.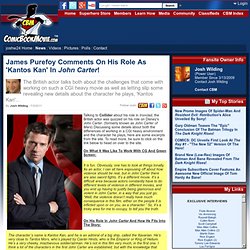 (formerly known as John Carter of Mars) Discussing some details about both the differences of working in a CGI heavy environment and the character he plays, here are some excerpts from the site. To read more, be sure to click on the link below to head on over to the site. On What It Was Like To Work With CG And Green Screen: It is fun. Obviously, one has to look at things tonally. Director Andrew Stanton And Actors Taylor Kitsch and Lynn Collins Discuss Jon Carter of Mars. And to refresh your memory, here's the first teaser trailer for the film.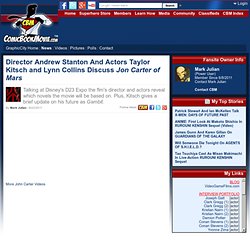 Sound off below in the comments section. Are you excited for this film? Source: IGN DISCLAIMER: This article was submitted by a volunteer contributor who has agreed to our code of conduct. ComicBookMovie.com is protected from liability under "safe harbor" provisions and will disable users who knowingly commit plagiarism, piracy, trademark or copyright infringement.
---