Itw
Ryan Reynolds, Blake Lively, Mark Strong and Peter Sarsgaard Interview GREEN LANTERN
Michael Clarke Duncan Talks About Voicing Kilowog In Green Lantern!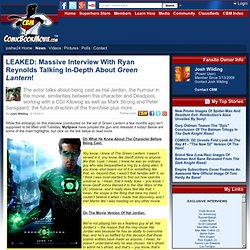 Massive Interview With Ryan Reynolds Talking In-Depth About Green Lantern!
While the embargo on this interview (conducted on the set of Green Lantern a few months ago) isn't supposed to be lifted until Tuesday, MySpace have jumped the gun and released it today! Below are some of the main highlights, but click on the link below to read more. On What He Knew About The Character Before Being Cast: You know, I knew of The Green Lantern. I wasn't versed in it, you know, like Geoff Johns or anyone like that.
To read the full interview on MySpace , where the actor talks even more about his role as Sinestro including the make-up and blue screen effects used in Green Lantern , simply click on the link at ohe bottom of the page to head on over to the site. Many thanks to CBM's "TheBlackWidow" for the heads up! On The Voice He Uses As Sinestro:
Mark Strong Talk In Detail About Sinestro; Reveals Minor Green Lantern Spoilers!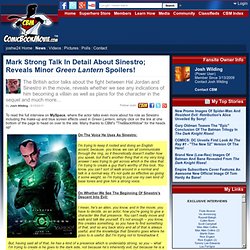 Geoffrey Rush Talks Green Lantern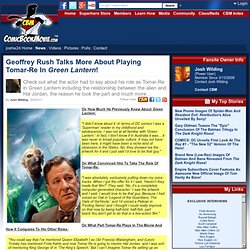 On How Much He Previously Knew About Green Lantern : "I didn't know about it. In terms of DC comics I was a 'Superman' reader in my childhood and adolescence. I was not at all familiar with 'Green Lantern.' In fact, I don't know if in Australia it was… it was never in broad popular culture. It may not have been here, it might have been a niche kind of obsession in the States.
Geoffrey Rush Talks More About Playing Tomar-Re In Green Lantern!
When Tomar-Re was announced for the Green Lantern film a lot of people wanted to know who would portray Hal Jordan's sector neighbor of 2813. The answer was season actor Geoffery Rush who was a big Superman as and admits he didn't know that much about Green Lantern, but asked to be sent some art work and the script to give it a chance. Surprisingly it was Tomar-Re's body shape that sealed the deal for Rush. "I voiced an owl in Legends of the Guardians and I did a pelican in Finding Nemo, I think it's time to add half fish, half lizard, to put that arrow in my quiver."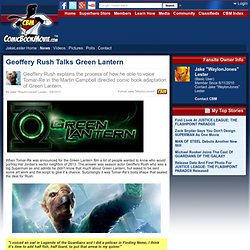 Geoffery Rush Talks Green Lantern
'Green Lantern' Star Blake Lively Talks Star Sapphire's Crazy Costumes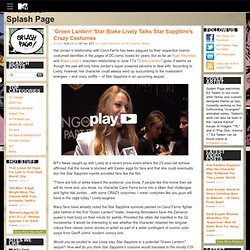 Hal Jordan's relationship with Carol Ferris has been plagued by their respective cosmic costumed identities in the pages of DC comic books for years, but as far as Ryan Reynolds and Blake Lively's onscreen relationship in June 17's " Green Lantern " goes, it seems as though the pair will only have Jordan's super powered persona to deal with. According to Lively, however, her character could always wind up succumbing to the malevolent energies -- and crazy outfits -- of Star Sapphire in an upcoming sequel. MTV News caught up with Lively at a recent press event where the 23-year-old actress affirmed that the movie is stocked with Easter eggs for fans and that she could eventually don the Star Sapphire mantle provided fans like the film. "There are lots of winks toward the audience, you know, if people like this movie then we will do more and, you know, my character Carol Ferris turns into a villain that challenges and fights Hal Jordan... with some CRAZY costumes.
Ryan Reynolds Explains His 'Extraordinary' 'Green Lantern' Character Arc - MTV Movie News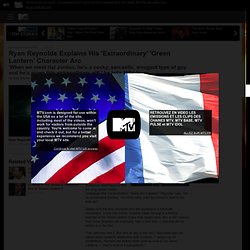 The first time we see Ryan Reynolds' Hal Jordan in the trailer for "Green Lantern," he wakes up in bed next to a woman he doesn't seem to have known for long. "Make yourself at home," he tells her as he rushes out. "There's water in the tap." A gracious host he's not. That trailer introduction to Jordan is a fairly accurate representation of the test-pilot we meet in the beginning of the upcoming film, before an encounter with an intergalactic visitor gifts him with a power ring that turns Jordan into a superhero. What Is Hal Jordan's Character Arc In 'Green Lantern'?
Donald De Line Interview GREEN LANTERN; Talks Parallax, Oa, the CGI Costume, 3D, More