Security
Research. ReAssure Project Home Page. ReAssure is written in Ruby and Python.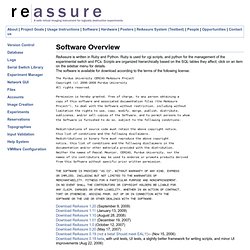 Ruby is used for cgi scripts, and python for the management of the experimental switch and PCs. Scripts are organized hierarchically based on the SQL tables they affect; click on an item on the sidebar menu for details. The software is available for download according to the terms of the following license: The Purdue University CERIAS ReAssure Project Copyright (c) 2006-2009 Purdue University All rights reserved. Coms. Malware Intelligence Blog. Security Research by Alexander Sotirov. Darknet - The Darkside | Ethical Hacking, Penetration Testing & Computer Security.
Skeptikal.org. .:[ packet storm ]:. - .:: Phrack Magazine ::. Uninformed - vol 10. Black Hat ® Technical Security Conference // Archives. This archive of computer security presentations is provided free of charge as a service to the world wide computer security community.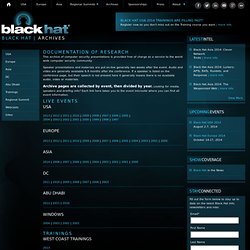 Speaker presentations and materials are put on-line generally two weeks after the event. Audio and video are generally available 6-9 months after the conference. If a speaker is listed on the conference page, but their speech is not present here it generally means there is no available audio, video or materials. Archive pages are collected by event, then divided by year.
Looking for media, speakers and briefing info? HackerspaceWiki. Hackerspaces are community-operated physical places, where people can meet and work on their projects.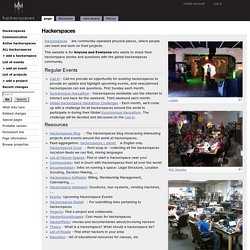 This website is for Anyone and Everyone who wants to share their hackerspace stories and questions with the global hackerspaces community. Regular Events Call-in - Call-ins provide an opportunity for existing hackerspaces to provide an update and highlight upcoming events, and new/planned hackerspaces can ask questions.
First Sunday each month. Synchronous Hackathon - Hackerspaces worldwide use the internet to interact and hack for the weekend. DEF CON® Hacking Conference - The Hacker Community's Foremost So.
---