Dcray
DC Ray
Abine is a Boston-based privacy company. Led by consumer protection, privacy, and identity theft experts, we are passionate about making easy-to-use privacy solutions for everyday people. We strongly believe that these solutions must improve as online privacy becomes more difficult to get, and we work hard to stay ahead of the curve.
Protect your Privacy with Abine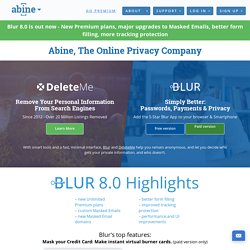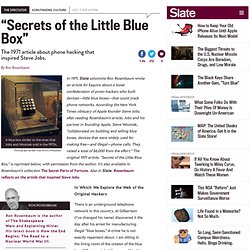 The article that inspired Steve Jobs: "Secrets of the Little Blue Box"
Photograph by RaD man/GFDL/Wikipedia In 1971, Slate columnist Ron Rosenbaum wrote an article for Esquire about a loose confederation of proto-hackers who built devices—little blue boxes—that could crack phone networks. According the New York Times obituary of Apple founder Steve Jobs, after reading Rosenbaum's article, Jobs and his partner in founding Apple, Steve Wozniak, "collaborated on building and selling blue boxes, devices that were widely used for making free—and illegal—phone calls.