Sewing
craft:g33k: Tardis Tissue Box Cozy
UPDATE: This blog post has gone around some, which is awesome, but I know these instructions are a little fly-by-night. If you want any help please feel free to comment and I will respond. It had to be done. It's so obvious that it's even been done before.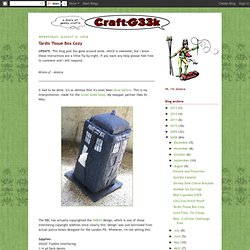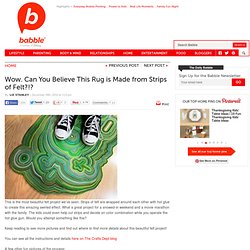 This is the most beautiful felt project we've seen. Strips of felt are wrapped around each other with hot glue to create this amazing swirled effect. What a great project for a snowed-in weekend and a movie marathon with the family.
Felting Project: A Rug! | Family Style - StumbleUpon
Embroidery
How To Videos
13.jpg (JPEG Image, 1181x883 pixels) - Scaled (83
Antique Pattern Library Antique Pattern Library
Conditions of Use By downloading the files, you are agreeing to the following conditions: The files are scans of books which are now in the public domain. Although the originals have no copyright, the scans are the works of the owners or scanners of the books and, as such, are copyrighted. The owners of the books give permission for you to download and use these file for educational and personal use.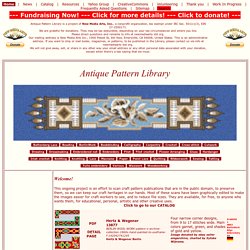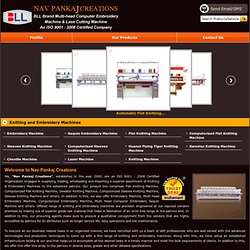 We, "Nav Pankaj Creations", established in the year 2000, are an ISO 9001 : 2008 Certified Organization engaged in supplying, trading, wholesaling and importing a superior assortment of Knitting & Embroidery Machines to the esteemed patrons. Our product line comprises Flat Knitting Machine, Computerized Flat Knitting Machine, Sweater Knitting Machine, Computerized Sleeves Knitting Machine, Sleeves Knitting Machine and others. In addition to this, we also offer Embroidery Machine, Multi Head Embroidery Machine, Computerized Embroidery Machine, Multi Head Computer Embroidery Sequin Machine and others.
Embroidery Machines
Machine Embroidery Designs at Embroidery Library! - Polish Folk Art
The Embroidery Boutique | Digital Download Applique and Embroidery Designs
Denim Sunburst Textile Art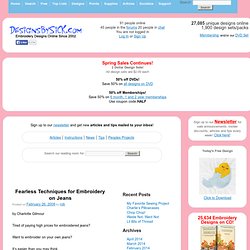 by Charlotte Gilmour Tired of paying high prices for embroidered jeans? Want to embroider on your own jeans? It's easier than you may think.
Fearless Techniques for Embroidery on Jeans « Designsbysick.com Embroidery Articles
How to Embroider Jeans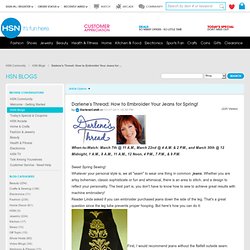 When-to-Watch: March 7th @ 11 A.M., March 22nd @ 4 A.M. & 2 P.M., and March 30th @ 12 Midnight, 1 A.M., 8 A.M., 11 A.M., 12 Noon, 4 P.M., 7 P.M., & 9 P.M. Sweet Spring Sewing!Whatever your personal style is, we all "seam" to wear one thing in common: jeans. Whether you are artsy bohemian, classic sophisticate or fun and whimsical, there is an area to stitch, and a design to reflect your personality.
Darlene's Thread: How to Embroider Your Jeans for Spring! | HSN Blogs
Hand Embroidered Note : Daily source of DIY craft projects and inspiration,... - StumbleUpon