Education
Phonics instruction
Hello parents, teachers, and blog readers!  We've. Hello parents, teachers, and blog readers!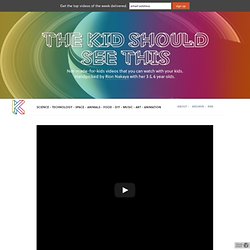 We've received so much interest in The Kid Should See This and for the educational videos featured here — especially for the science vids — that we'd love to focus that attention on the teachers who are bringing science education to life for kids every day. If you've liked watching videos on this ad-free blog, want to let the co-curator and I know that the research and work put into this site has meant something to you, and above all want to directly help students in need, then please consider giving this site a small tip in our tip jar by supporting one of the science-focused projects that we've picked on DonorsChoose.org.
It works like this: Write in the Middle: A Workshop for Middle School Teachers. Workshop 1.
Creating a Community of Writers In this session, participants explore practical strategies — from desk arrangements to classroom organization to writing routines — that allow young adolescents to share their writing in an atmosphere of trust and safety and to recognize their identities as lifelong writers and readers. Go to this unit.
Official: 10 states to get education waiver. Ten states got the green light Thursday to pursue school reforms without being tethered to the requirements of the federal No Child Left Behind law.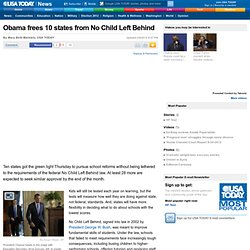 At least 28 more are expected to seek similar approval by the end of the month. Kids will still be tested each year on learning, but the tests will measure how well they are doing against state, not federal, standards. And, states will have more flexibility in deciding what to do about schools with the lowest scores. No Child Left Behind, signed into law in 2002 by President George W. Bush, was meant to improve fundamental skills of students.
SPED. FlexBooks. How to Learn Without Memorizing. Photo by Edwin Stemp Rote memorization is an inefficient way to learn.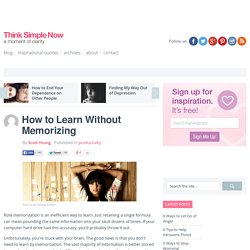 Just retaining a single formula can mean pounding the same information into your skull dozens of times. If your computer hard drive had this accuracy, you'd probably throw it out. Teacher Tools. Kids. KidzTimez - Todays News for Kids, by Kids. Rubrics For Teachers | K-12 Rubrics and Assessment.
Home. NCEE - National Centre for Entrepreneurship in Education. Six Questions for Entrepreneurial Leadership and Innovation in Distance Education | Leadership in Distance Education | Scoop.it. Six Questions for Entrepreneurial Leadership and Innovation in Distance Education by Connie Reimers-Hild, Ph.D., University of Nebraska-Lincoln, and James W.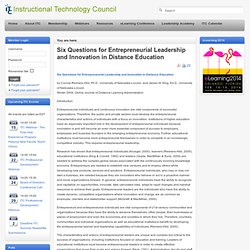 King, Ed.D., University of Nebraska-LincolnWinter 2009, Online Journal of Distance Learning Administration. Language Arts Websites.
3-6 Student Interactives - Language Arts. Language. Reading. Interesting reading. Activities. EDUCATION. Education Resources. Critical thinking. Blooms. «Free digital tools in Blooms. This list is distinctive as the resources are a) free and b) almost exclusively browser based.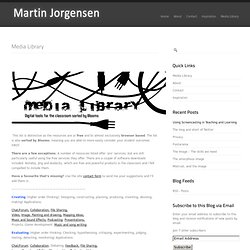 The list is also sorted by Blooms, meaning you are able to more easily consider your student outcomes FIRST. There are a few exceptions. A number of resources listed offer 'pro' services, but are still particularly useful using the free services they offer. There are a couple of software downloads included. Notably, Jing and Audacity, which are free and powerful products in the classroom and I felt compelled to include them. Edublogs - education blogs for teachers, students and institutions. Bloom's Apps - 21nnovate. Testmoz - The Test Generator. Shmoop: Homework Help, Teacher Resources, Test Prep.
The Best Videos For Educators In 2011. This is always one of my favorite year-end lists to do…..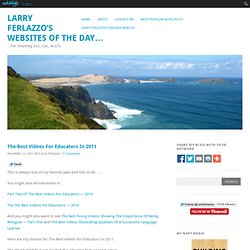 You might also be interested in: Part Two Of The Best Videos For Educators — 2010 The Ten Best Videos For Educators — 2010 And you might also want to see The Best Funny Videos Showing The Importance Of Being Bilingual — Part One and The Best Videos Illustrating Qualities Of A Successful Language Learner. Here are my choices for The Best Videos For Educators In 2011: 100 Incredibly Useful YouTube Channels for Teachers | Online College Courses. YouTube has earned a reputation for featuring brain cell-slaughtering fare such as the truly abysmal Fred and playing host to the some of the most depressingly stupid comments this side of Yahoo!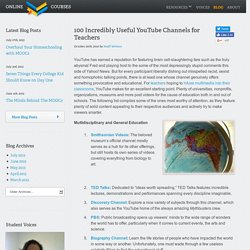 News. But for every participant liberally dishing out misspelled racist, sexist and homophobic talking points, there is at least one whose channel genuinely offers something provocative and educational. For teachers hoping to infuse multimedia into their classrooms, YouTube makes for an excellent starting point. Plenty of universities, nonprofits, organizations, museums and more post videos for the cause of education both in and out of schools. The following list compiles some of the ones most worthy of attention, as they feature plenty of solid content appealing to their respective audiences and actively try to make viewers smarter.
It's said that there's nothing new under the sun, It's said that there's nothing new under the sun, but the first time I saw someone levitating a glider, I couldn't believe it… Ten years later I was building and flying walkalong gliders with my students.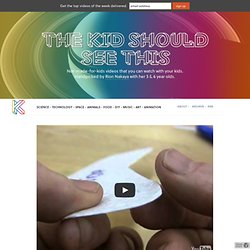 And now teacher Slater Harrison shares his Air Surfing Foam Walkalong Glider project on his site, Science Toy Maker. He also has videos about variations on the glider, the history of the experiment, and other easy and more challenging science DIYs. An excellent resource. Evernote for Education. Android App: I use the desktop version at home and the office, the Android app on my HTC One smartphone, my tablets, web version on my Chromebook.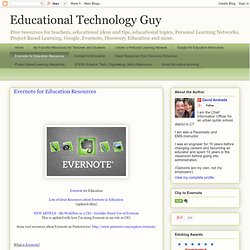 The desktop version sync's all of the data to your computer (good for backup) and you can also export your notes in a variety of formats for backup. You can create new notes via desktop, web, or mobile version. Common Core. Professional Learrning.
Apps for Professional Development. Twitter App (free) Twitter is one of the most active and beneficial social networks on the web. All educators would be wise to join the conversation. The Oxford Institute for Environmental Education. Webinars – Google Apps for Education. General Learn about all of the features and benefits of Google Apps Education Edition. In this recorded online seminar, you will: Hear why other organizations have made the switch Learn how other organizations are using these services Watch a demo of Google Apps Education Edition Watch Now See a demo of Google Vault. 200 Free Online Classes to Learn Anything.
Pgrteach. Graphic Organizers.
---