Personal Development
KNOW THYSELF ·٠•●
A potential way of enquiry into human curiosity
Mind Media Self Improvement & Personal Development
Whenever AR sees a face, her thoughts are bathed in colour and each identity triggers its own rich hue that shines across her mind's eye. This experience is a type of synaesthesia which, for about one in every 100 people, automatically blends the senses. Some people taste words, others see sounds, but AR experiences colour with every face she sees. But on this occasion, perhaps for the first time in her life, a face is just a face. No colours, no rich hues, no internal lights.
You've probably read some of these books, or at least come across major personal development ideas in magazines or online. If you've been reading Dumb Little Man for any length of time, you'll definitely have soaked up a lot of great personal development advice. You might even spend time every day reading personal development blogs and books, or listening to audio. But ... are you wasting your time? Just Reading Won't Get You Far When you want something to change in your life, it's tempting to look for a quick fix. And books can promise a lot – with titles like I Will Make You Rich .
Are You Wasting Your Time Reading About Personal Development? - by Dumb...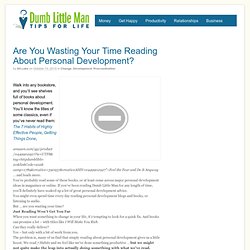 great site for personnl devlopement by mazhar840 Dec 24
The Misconception: All buttons placed around you do your bidding. The Truth: Many public buttons are only there to comfort you. You press the doorbell button, you hear the doorbell ring. You press the elevator button, it lights up.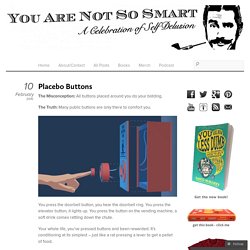 23. How to live given the certainty of death