Foundation X
Foundation X: Lord James Of Blackheath Tells Sky News Group Could Pay Off Billions Of UK Debt | Politics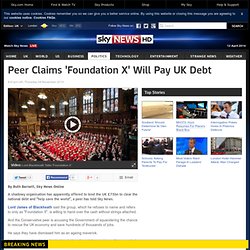 By Ruth Barnett, Sky News Online
It's quite the most extraordinary speech I think I've ever come across. It was given by Lord James of Blackheath , a respected industrialist and a former senior adviser to the Conservative party. James was speaking in the Lords debate on the spending review . You might expect him to touch on the issue of government waste, which he is known for politically. Not a bit of it.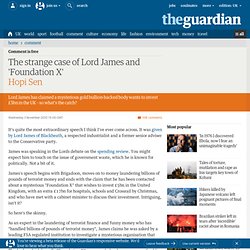 The strange case of Lord James and 'Foundation X' | Hopi Sen | Comment is free
Lord James: Foundation X not a scam
A mysterious organisation that claims to have billions of pounds to invest in the UK economy is not an attempted scam, according to a peer with extensive City experience. Lord James of Blackheath told ZDNet UK on Thursday that the organisation, which Lord James has dubbed 'Foundation X', to his knowledge is a viable organisation. "I'm convinced it's bona fide," said James.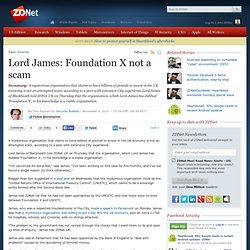 Have we uncovered "Foundation X"? « Hopi Sen
Mystery bankers to save UK with GBP 22 billion gift! Or, possibly not
Lord James of Blackheath, Speech on Foundation X (House of Lords, 01/11/2010)
The parliamentary Foundation X-files [updated]