Cultural Change
Flock Theory - A New Model of Emergent Self-Organization in Human Interaction
The Characteristics and Emerging Behaviors of System-of-Systems
Concepts and Theories of Social Structure
Sample Projects
Welcome to All Beings
Archetype in Action™ Organization - Putting Achetype to Work for the Good of Society
ShapeShift
Large-scale participatory futures systems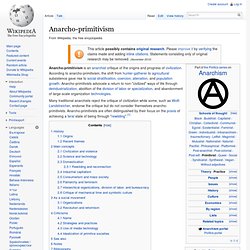 History[edit] Origins[edit] Anarchism started to have an ecological view mainly in the writings of American individualist anarchist and transcendentalist Henry David Thoreau.
A 2004 poster announcing a large-scale dérive in London, led by a psychogeographical society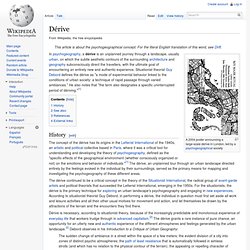 Drifter (person)
The Micro-Sociology of Networks
hypergogue - Learning support for hyperconnectivity
Chuck Blakeman / The Industrial Age is Dead - Time is the New Money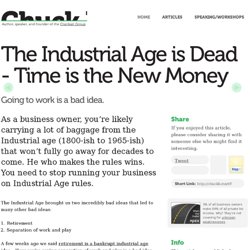 The Industrial Age brought us two incredibly bad ideas that led to many other bad ideas: Retirement Separation of work and play
On Truth, Reality & the Evolution of Utopia Utopia as the Evolution of Human Culture & Society Founded on Truth & Reality Only the individual can think, and thereby create new values for society, nay, even set up new moral standards to which the life of the community conforms. ... The ideals which have lighted my way, and time after time have given me new courage to face life cheerfully, have been Kindness, Beauty and Truth.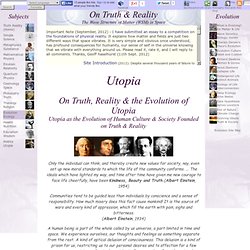 Utopia Evolution: Utopia as the Evolution of True Knowledge of Reality (WSM) into Human Society
Illustration: Oksana Badrak
Motor: Best Vehicles for Navigating the Apocalypse | Magazine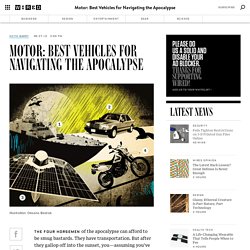 The Space Hijackers Homepage
Let's say you know the standard speaking tips, tricks and fare. You're good... you can get by.
9 Ways To Elevate Your Speaking To Black Belt Level
9 Web platforms to help you change the world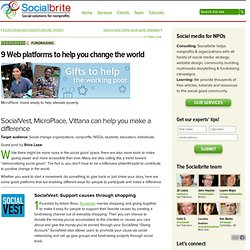 MicroPlace: Invest wisely to help alleviate poverty.
static.slidesharecdn.com/swf/ssplayer2.swf?doc=state-dept-slides-101108002222-phpapp01&stripped_title=techstate-5699675&userName=kanter
Malcolm Gladwell's recent New Yorker essay on social media and political power introduced an insular debate among technologists to the general public.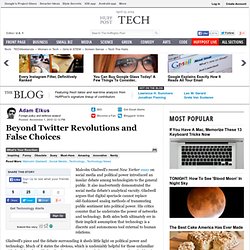 Adam Elkus: Beyond Twitter Revolutions and False Choices