UNDRGRounD Cycles
Vintage Western Wear.Com, Retro-vintage styled western wear from
From Guy Bolton of Greasy Kulture magazine. For a long time, Jon Rispante of Nevada wanted to build an all-black hot rod Triumph—'murdered out', as the hipsters might say. Here's the result, a combination of three different Triumphs that Jon had sitting around.
Triumph Bonneville custom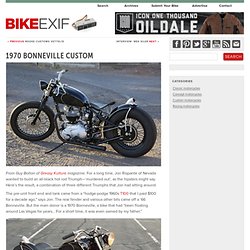 HOPPER mag | Motorcycle Culture Magazine
:: Deus Ex Machina ::
xsbobber
<img alt="" src="http://www.homestead.com/~media/elements/shared/javascript_disabled.gif" height="40" border="0" width="373"> In epoxy and ready for mock up Welded on oil bag mounts and spring perches
The 19 most complex and dangerous roads in the world
XS650 Chopper Satisfying Your Yamaha XS 650 Chopper/Bobber Addiction!
Cafe racer, kustom cultur and streets' maniacs