Learning_objects
Main Articles: 'The MrCute Repository: The Next Phase' Printer-friendly version Send to friend Helen Brady describes the MrCute repository project and its potential impact on the digital learning object-sharing community.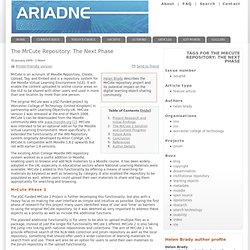 VirtualCaseCreator - Birmingham City University. Business, Law and Social Sciences Academic Support Team. Information Literacy Resource Bank - Home. Reusable Learning Objects | Subject Centre for Information and C. What are reusable learning objects?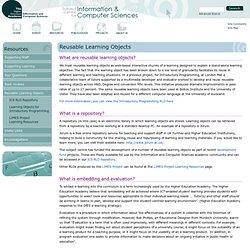 We treat reusable learning objects as web-based interactive chunks of e-learning designed to explain a stand-alone learning objective. The fact that the learning object has been broken down to a low level of granularity facilitates its reuse in different learning and teaching situations. In a previous project, for Introductory Programming, at London Met a collaborative team of tutors supported by a multimedia developer and evaluator worked to develop and reuse reusable learning objects across HND, Degree and conversion MSc levels. This initiative produced dramatic improvements in pass rates of up to 27 percent. The same reusable learning objects have been used at Bolton Institute and the University of Ulster.
---