Learning_objects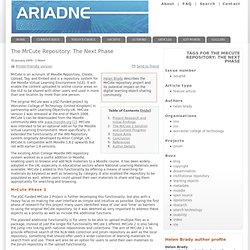 Main Articles: 'The MrCute Repository: The Next Phase'
Printer-friendly version Send to friend Helen Brady describes the MrCute repository project and its potential impact on the digital learning object-sharing community.
VirtualCaseCreator - Birmingham City University
Emerald: Article Request - Digital learning objects: a local res
Business, Law and Social Sciences Academic Support Team
Information Literacy Resource Bank - Home
Reusable Learning Objects | Subject Centre for Information and C
What are reusable learning objects? We treat reusable learning objects as web-based interactive chunks of e-learning designed to explain a stand-alone learning objective.