Icons
Site Tools: Create your own web buttons - Lifehacker
Cancel Edit Delete Preview revert Text of the note (may include Wiki markup) Could not save your note (edit conflict or other problem).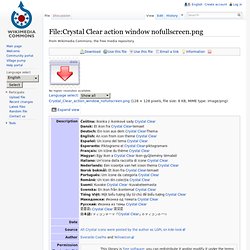 Image:Crystal Clear action window nofullscreen.png - Wikimedia C
Crystal Clear From Wikimedia Commons, the free media repository Jump to: navigation, search Icons from the Crystal Clear icon set (archived page as of 10 October 2012 at Internet Archive) by Everaldo Coelho. – The icons are licensed under the GNU Lesser General Public License (LGPL).