Humour
Welcome The British Cartoon Archive is located in Canterbury at the University of Kent's Templeman Library. It has a library, archive, and exhibition gallery, and is dedicated to the history of British cartooning over the last two hundred years. The BCA holds the artwork for more than 150,000 British editorial, socio-political, and pocket cartoons, supported by large collections of comic strips, newspaper cuttings, books and magazines.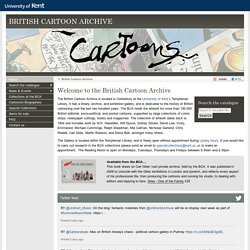 This special upgrade price is available for both Comic Life and Comic Life Deluxe users. A "Deluxe" version of Comic Life 2 will not be released as Comic Life 2 contains all of the Deluxe extras - the extra fonts, styles and templates. Creating comics using your personal photos are a terrific way to share your snaps with family and friends. By pointing out amusing situations with anecdotes it helps give your photos context rather than just seeing the photos by themselves. "Comic Life 2 is more or less the Pages of creating comics on the Mac, albeit with a quirkier interface design. You can lay out panels on your own or start with one of the built-in layouts, drag over photos from iPhoto, sprinkle in some dialog, and share your gripping story with friends and the world."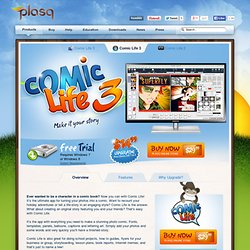 Comic Life - Version 1.4
The Cartoon Strip Creator - Create, Publish, Share, Discuss!
Questionable Content: New comics every Monday through Friday
Play films - Focus on Animation - ONF