Humour
This special upgrade price is available for both Comic Life and Comic Life Deluxe users. A "Deluxe" version of Comic Life 2 will not be released as Comic Life 2 contains all of the Deluxe extras - the extra fonts, styles and templates.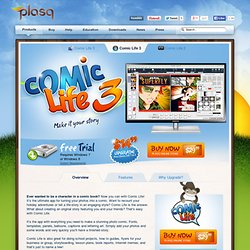 Comic Life - Version 1.4
The Cartoon Strip Creator - Create, Publish, Share, Discuss!
Questionable Content: New comics every Monday through Friday
Play films - Focus on Animation - ONF