Hair
How to Twist & Pin. HALLOWEEN HAIR TUTORIAL 2. Photos by kristin ess, post created by kristin ess Lots and lots of request rolled in for a Halloween hair tutorial on creating frizz.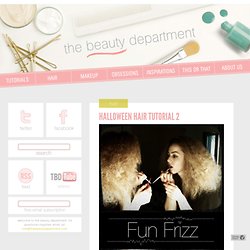 Clearly this look can go with SO many costumes– 70′s glam, a lioness, a gypsy, a witch, a dead person, zombie, ghost (spray with white hair powder!) , and countless others… I snagged my gorgeous friend Nora for this tutorial. Renaissance Bun. DIY The Perfect Bun. Image via elle.com The top knot, the beehive, the chignon, the messy bun, the high bun, the ballerina bun – these days everywhere you look there are buns.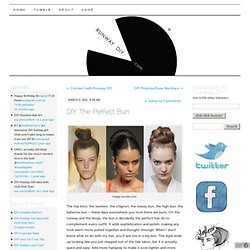 On the runway and the blogs, the bun is decidedly the perfect hair do to complement every outfit. It adds sophistication and polish, making any look seem more pulled together and thought-through. When I don't know what to do with my hair, you'll see me in a big bun. This style ends up looking like you just stepped out of the hair salon, but it is actually quick and easy. B H L D N. Hair tutorial. We haven't done a hair tutorial in ages!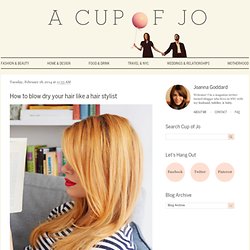 So, my friend (and hair genius) Caroline, photographer Jamie Beck and I decided to come together to whip up this gorgeous mermaid tail. It's perfect for those lazy summer day (or date nights) when you want to surprise and awe people with your hair. I absolutely love it--in fact, it might be my favorite hair tutorial yet. How gorgeous is that braid, above?! A NEW TWIST. Photos: angelaandithyle.com post designed by kristin ess Time to mix up the mundane… This has always been one of our favorite ways to spice up the plain old ponytail.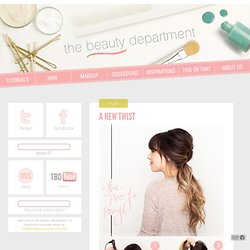 We asked our fabulous friend Jaclyn from somenotesonnapkins.com to lend us a head to show you how to get hot hair in a hurry! In the Thick of It: 3 Fancy Hairstyles for Thick Hair. As host to a rather large amount of hair, I've had my fair share of coiffure conundrums over the years.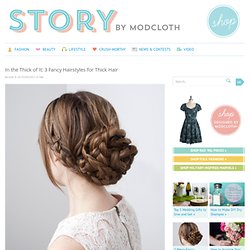 Whether I was eschewing the dreaded ringlet for my senior prom, or wrangling my mop into a behemothic beehive for my wedding, I did my best to bypass the typical, opting instead for something more unique. So, when a request rolled in from a ModCloth Style Ambassador seeking formal up-do ideas for thick hair, I leapt at the opportunity to solve her hairstyle headache! Whether you're prepping for prom, flying to Fashion Week, or simply seeking a new way to tame your mane, the three thick-hair-friendly styles below not only all use the same tools, but can be easily crafted to suit any occasion. Hair tutorials.
After many requests, I finally made a tutorial on how to tie a simple head scarf.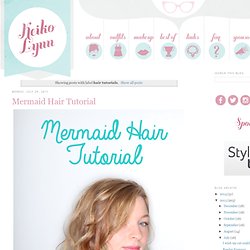 It's really, really easy. I did this without looking in the mirror, so that should tell you how easy it is. Let's get started! Start with a large, square scarf. 'Free People' March Lookbook.
Vintage. Hairspiration for length and texture. Between the dark, captivating features of model Leah, the drippings of Damselfly jewellery, and the ever-beautiful photography by 35mm, it's hard to know what to focus your attention on when this shoot meets your eyes.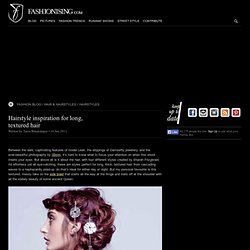 But above all is it about the hair, with four different styles created by Sharah Fitzgerald. All effortless yet all eye-catching, these are styles perfect for long, thick, textured hair, from cascading waves to a haphazardly piled-up 'do that's ideal for either day or night. But my personal favourite is this textured, messy take on the side braid that starts all the way at the fringe and trails off at the shoulder with all the stately beauty of some ancient Queen.
Click the thumbnails for full pictures: Click on the thumbnails for your full dose of hairstyling inspiration from Sharah Fitzgerald. Hair how to: Felicity Brown's disheveled Victoriana. Felicity Brown's beautiful collection for spring 2012 took inspiration from Victorian lady adventurers in Africa, such as Kathryn Hepburn in 'African Queen'.
Her focus was on combining the influences from both cultures, bringing together the similarities in traditional African neck adornments with elaborate Victorian tailoring. This made for a stunning and vibrant collection whilst still incorporating Felicity's signature style. Her presentation was held in the ballroom at London's Royal Opera House to create a stunning backdrop to showcase her collection. The moment you walked through the doors of the grand ballroom, it was a moment of surreal beauty. With the sounds of live classical music in the background, surrounded by Felicity's beautiful models and London's fashion elite sipping champagne, actually felt like you were transported to a high society party in the Victorian era for the afternoon. How to: wild, messy braids (video) We've had our imaginations captured by various types of plaits and braids as some of the most on-trend 2011 hairstyles.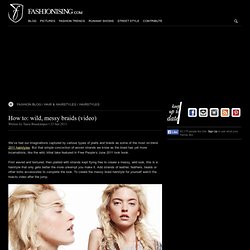 But that simple concoction of woven strands we know as the braid has yet more incarnations, like the wild, tribal take featured in Free People's June 2011 look book. First waved and textured, then plaited with strands kept flying free to create a messy, wild look, this is a hairstyle that only gets better the more unkempt you make it. Add strands of leather, feathers, beads or other boho accessories to complete the look. How to: tumbled tail twist hairstyle.
Even from the vantage point of a front-row seat, the hairstyle at VAMFF (Melbourne Fashion Festival) L'Oreal Paris Runway 3 looked like something it was not.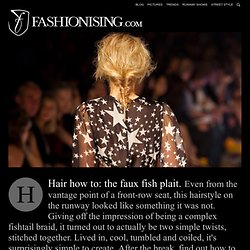 I would have called it a fish plait (and potentially written it off as something too bothersome to master) but as the L'Oreal hair team later revealed it was a deceptive style indeed: it was actually two twists, stitched together. Find out how to recreate the style after the break, and add it to your 2012 hairstyle repertoire. The 'tumbled tail' hairstyle Created by L'Oréal Professionnel Hair Director Brad Ngata, the 'tumbled tail' gives off the vibe of being lived in; a 'next day' hairstyle with a diffusion of vintage and youth. Fluffy curls hairstyle: how to. Against the delicate features of golden haired Lily Hart, these soft, brushed out curls have an ethereal aura. Straight on top, then bursting out voluminously on the sides, it's a style that also oozes soft 70s glamour if paired with some metallic eyeshadow and a retro-inspired frock. To create the look for yourself, follow our how-to guide after the break.
For more of the best hairstyles for 2012, along with all our other trend guides, subscribe to Fashionising.com's free fashion newsletter or our RSS feed. Amazing-hairstyle-different-braids-bun-blonde-colored-purple-pink-maron-french-braid-flower-braid-long-hair+%2844%29. IN A RUSH? FORGET THE BRUSH! Photos: Angela Kohler + thebeautydepartment.com post designed by kristin ess In a world where we can't stop running late, the fun bun is probably the quickest way from A to Chic.
This look comes in über-handy when you wake up late and you're rushing out the door (or even if you have plenty of time). HALLOWEEN HAIR TUTORIAL #1. Photos by kristin ess, post designed by kristin ess A couple weeks ago, I asked you guys which Halloween hair tutorials you wanted. Let's just say it was an overwhelming victory for 1920′s and 1930′s hair. There are 3 more coming up, but for now we bring you "Vintage Vixen" starring Lady Conrad!
---