I/O
Get flash to fully experience Pearltrees
Hi penth , Welcome to the GID Forums . Quote:
In this C programming language tutorial we take another look at the printf function. We will look at how to use format specifiers to print formatted output onto the screen. The topics covered are; a little printf background, format specifiers and conversions, formatting of different types and format conversions of strings. printf Background The printf function is not part of the C language, because there is no input or output defined in C language itself. The printf function is just a useful function from the standard library of functions that are accessible by C programs.
C++ provides the following classes to perform output and input of characters to/from files: ofstream: Stream class to write on files ifstream: Stream class to read from files fstream: Stream class to both read and write from/to files. These classes are derived directly or indirectly from the classes istream , and ostream . We have already used objects whose types were these classes: cin is an object of class istream and cout is an object of class ostream . Therefore, we have already been using classes that are related to our file streams. And in fact, we can use our file streams the same way we are already used to use cin and cout , with the only difference that we have to associate these streams with physical files. Let's see an example:
Hmm, I see... It would probably cost you less to simply flat-map a single file. For example, a 2D array is written by simply writing a sequence of 1D arrays: a[0][0] a[0][1] a[0][2] a[0][3] a[1][0] a[1][1] a[1][2] a[1][3] a[2][0] a[2][1] a[2][2] a[2][3] ... To write a 3D array, simply write a sequence of 2D arrays: a[0][0][0] a[0][0][1] a[0][0][2] a[0][0][3] a[0][1][0] a[0][1][1] a[0][1][2] a[0][1][3] a[0][2][0] a[0][2][1] a[0][2][2] a[0][2][3]
Creating cleanly formatted output is a common programming requirement--it improves your user interface and makes it easier to read any debugging messages that you might print to the screen. In C, formatted output works via the printf statement, but in C++, you can create nicely formatted output to streams such as cout. This tutorial covers a set of basic I/O manipulations possible in C++ from the iomanip header file. Note that all of the functions in the iomanip header are inside the std namespace , so you will need to either prefix your calls with "std::" or put "using namespace std;" before using the functions. Dealing with Spacing Issues using iomanip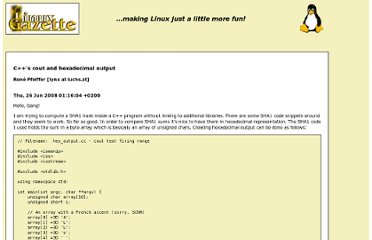 C++'s cout and hexadecimal output René Pfeiffer [lynx at luchs.at] Thu, 26 Jun 2008 01:16:04 +0200 Hello, Gang!
Return to tutorial index Tips and tricks for using C++ I/O (input/output) Table of Contents There are three header files to include when using C++ I/O
The cout class is equipped with width() to set the amount of space needed to display an item on the console. You can display the intended value with empty parentheses for width(). Here is an example: This would produce: Property Value: 782500 Press any key to continue . . . As an alternative, you can type an integer in the parentheses of width() .