Handbags
Lighthouse Deluxe Briefcase from Lands
I've had the predecessor model to this for 3 years. While not a fashion statement, this is a briefcase which fits everything and then some. It's been on well over a dozen flights, and rides on the back of a bike or thrown in the trunk, while keeping contents clean and dry. Again, not the prettiest bag I have but the toughest and really good light weight.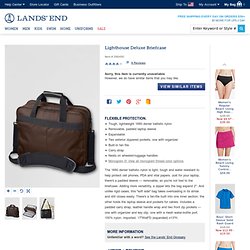 The Cadet is a minimalist briefcase designed to fit your laptop, a few files or magazines, power supplies, pens, notebooks, and other small accessories. The Cadet is available in two sizes: 15/13 and 11/iPad. Both sizes feature a removable protective laptop sleeve (the Cache for Cadet ) in sizes designed specifically to fit Apple laptops and the iPad: the 15/13 size fits the 15" and 13" MacBook Pro, the 13" MacBook, and the 13" MacBook Air, while the 11/iPad size fits the 11" MacBook Air and the iPad/iPad 2. While designed to fit Apples, many PC laptops will fit too — please consult our fit list on this page. If you can't find your laptop on that list, email us and we'll help.
Cadet: TOM BIHN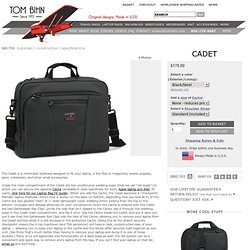 Wainwright 15 -- 15.6" / 40 cm Slimline Laptop Brief
Louvre 17 -- 17" / 43 cm Horizontal Laptop Brief
In 1884, the Swiss pioneer Karl Elsener founded a cutler's workshop. A short time later, he paved the way for an unparalleled company history by developing the now legendary «Original Swiss Army Knife». In addition to pocket, household and professional knives, today the independent family company Victorinox also produces and sells timepieces, travel gear, fashion and fragrances all over the world. Each product is an expression of Swiss quality and Swiss pioneering spirit.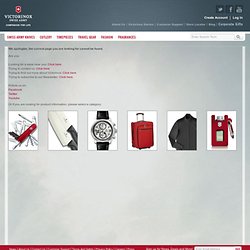 WT Wide Messenger -- 17" Laptop Messenger Bag
WT Standard Brief EXP -- Expandable Computer Briefcase
Monticello 15 -- 15.6" / 40 cm Expandable Dual-Compartment Laptop Brief
Deluxe Laptop Messenger -- 17" / 43 cm Flapover Computer Bag with 10" / 25 cm Portable Device Pocket