Handbags
Lighthouse Deluxe Briefcase from Lands. I've had the predecessor model to this for 3 years.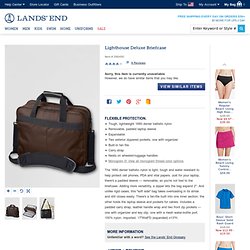 While not a fashion statement, this is a briefcase which fits everything and then some. It's been on well over a dozen flights, and rides on the back of a bike or thrown in the trunk, while keeping contents clean and dry. Again, not the prettiest bag I have but the toughest and really good light weight. Cadet: TOM BIHN. The Cadet is a minimalist briefcase designed to fit your laptop, a few files or magazines, power supplies, pens, notebooks, and other small accessories.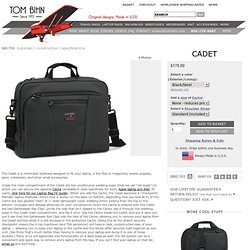 Inside the main compartment of the Cadet are two unobtrusive webbing loops (that we call "rail loops") to which you can secure the optional Cache (available in sizes specifically for every Apple laptop and iPad; PC users, click here for our Laptop Bag Fit Guide). When you add the Cache, the Cadet becomes a "checkpoint-friendly" laptop briefcase. Here's how it works: on the back (or bottom, depending how you look at it) of the Cache are two parallel "rails" of 1" wide lightweight nylon webbing which extend from the top to the bottom. Included (and already attached for your convenience) when the Cache is ordered with the Cadet are two Gatekeeper Rail Clips: unclip the side that isn't clipped to the Cache, slip it through the webbing loops in the Cadet main compartment, and flip it shut. Wainwright 15 -- 15.6" / 40 cm Slimline Laptop Brief. Louvre 17 -- 17" / 43 cm Horizontal Laptop Brief. Parliament 15 -- 15.6" / 40 cm Expandable Overnight Brief with Removable Laptop Sleeve.
WT Wide Messenger -- 17" Laptop Messenger Bag. WT Standard Brief EXP -- Expandable Computer Briefcase. Monticello 15 -- 15.6" / 40 cm Expandable Dual-Compartment Laptop Brief. Deluxe Laptop Messenger -- 17" / 43 cm Flapover Computer Bag with 10" / 25 cm Portable Device Pocket.
---