Semantic web
Www.macs.hw.ac.uk/~rs46/papers/paams2013/paams2013.pdf. LodLive - browsing the Web of Data. Untitled. RDF Current Status. This page summarizes the relationships among specifications, whether they are finished standards or drafts.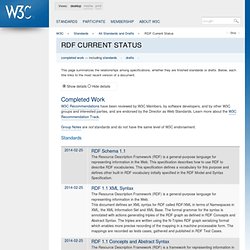 Below, each title links to the most recent version of a document. Completed Work W3C Recommendations have been reviewed by W3C Members, by software developers, and by other W3C groups and interested parties, and are endorsed by the Director as Web Standards. Learn more about the W3C Recommendation Track. Welcome to the NCBO BioPortal | NCBO BioPortal. Talks by W3C Speakers. Many in the W3C community — including staff, chairs, and Member representatives — present W3C work at conferences and other events.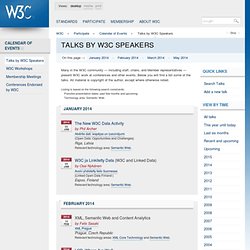 Below you will find a list some of the talks. All material is copyright of the author, except where otherwise noted. Listing is based on the following search constraints: Possible presentation dates: past few months and upcomingTechnology area: Semantic Web. Wiki.dbpedia.org : About. DBpedia is a crowd-sourced community effort to extract structured information from Wikipedia and make this information available on the Web.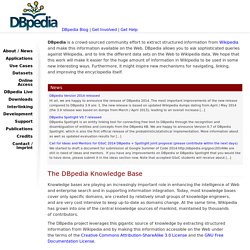 DBpedia allows you to ask sophisticated queries against Wikipedia, and to link the different data sets on the Web to Wikipedia data. We hope that this work will make it easier for the huge amount of information in Wikipedia to be used in some new interesting ways. DBpedia. TripleMap. Get on the Linked Data Web!
---