Inspiration
Blog buzz & tendances. Open lines to Intercultural Dialogue. Consultant first language is Bulgarian living in Montreal, Canada female, born, 1962, Bulgaria Various forms of exchange and interactionbetweenpeople with differentethnic, religiousand culturalbackground, which leads to mutualunderstanding and decreasing of conflicts razlichni formi na vzaimodeistvie i obmiana mezdu hora s razlichen etnus, religia, kulturni koreni, koeto vodi do vzaimno razbiratelstvo i namaliavane na konfliktite curator from istanbul first language is Turkish living in istanbul, Turkey female, born, 1969, Turkey Amutualmentalexchange of differentculturesfromeithersame or different geographies under the light of diverse realities.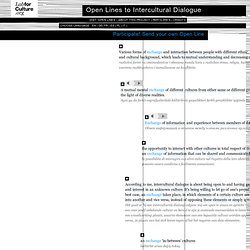 Ayni ya da farkli cografyalardaki kültürlerin yaşadiklari farkli gerçeklikler işiğinda karşilikli zihinsel alişverişi. NOTCOT.ORG. My Private Brand : MY private brand. CribcandyThe Best from Household and Interior Design Blogs Around the World, Every Day. E-TV | LE magazine de référence du Luxe & Lifestyle en Belgique, De referentie voor al wat luxe en lifestyle is in België. The complete source for the latest industrial news solutions. T Magazine - Continuous Style Coverage. Daily Goodness. Wonder How To ? How To Videos & How-To Articles. CoolBusinessIdeas.com | New Business Ideas, Innovations And Opportunities Around The World. Alice Rawsthorn. Shopper Culture: Promotion.
While St.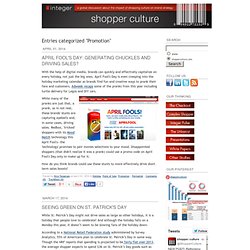 Patrick's Day might not drive sales as large as other holidays, it is a holiday that people love to celebrate! And although the holiday falls on a Monday this year, it doesn't seem to be slowing fans of the holiday down. According to a National Retail Federation study administered by Survey Analytics, 55% of Americans plan to celebrate St. Patrick's Day in some way.
Though the NRF reports that spending is projected to be fairly flat over 2013, the average shopper expects to spend $36 on St. Color Trends + Palettes. Ipernity O? (Share whatever you want with whoever you want) LifeStyle:News:Global. Lovely Package . Curating the very best packaging design. Geek Le Magazine. Fubiz™ Stuff for Smart Masses.
---