Gaming
Home - Unity. Nintendo DS Roms - Download NDS, DSi Roms, 3DS Roms and NDS Emulators - Page 58.
3DS
Elder scrolls online. Guildwars guild. Diablo 3. GBA. Xenoblade Chronicles - Nintendo - Games. In a vast world of adventure, a thirst for revenge leads to the quest of a lifetime.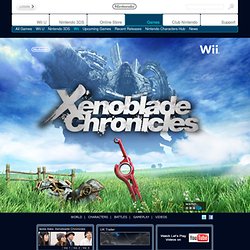 Take hold of the sacred Monado and battle evil in a sprawling Wii RPG where the action stretches as far as the eye can see. Xenoblade Chronicles is an adventure game in which players embark on a quest set in a vast world. The game involves extensive exploration and players will battle against mechanical enemies, using strategy and special powers as they control a variety of characters. The game can be played with the Classic Controller or Wii Remote and Nunchuk, and will appeal to fans of fantasy and adventure. Forums. Android game reviews and news. Infinity Healbreath Private Server. R4 R4i SDHC Revolution for NDSi/NDSL/NDS R4i Cards R4 Cards. Nintendo Wii Hacks Community - 3DS System Update 3.0.0-6.
Dark Souls
---