DIY
MAKE | DIY projects, how-tos, and inspiration from geeks, makers, and hackers. 20 brilliant things to make in a jar. Via: mycakies.blogspot.com Start saving your old jam jars!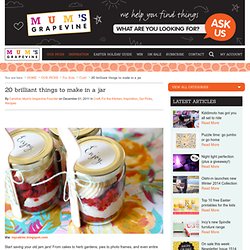 From cakes to herb gardens, pies to photo frames, and even entire meals … here are 20 fantastic things you never knew you could make with a jar. Your garden and glow in the dark stones. Using stones glowing in the dark is helping to confront two basic, most important and key tasks: the exotic view and lighting area at night, and also adds sense of magic, fairy tales and miracles, because any experienced landscape designer, using stones, glowing in the dark can create just fantastic and bewitching landscapes.
Using stones, glowing in the darkness, there is no need to use electric lights on the dark areas of the garden, a path or garden path without lights will be well in sight now. Saving electricity - is another definite plus use of self-luminous stone. The Secret Yumiverse » Illustrated tips and tricks from the mind of Yumi. Food Hacks News, Videos, Reviews and Gossip - Lifehacker.
Make an Awesome DIY Fire Pit on the Cheap. This project still has the same failures of the previous one from last year, namely the fact that 'cheap glass frames' are not made of tempered glass, are not formulated to be able withstand the stresses induced by repeatedly exposing them to flame and letting them cool off, and will likely fail in a rather explosive manner.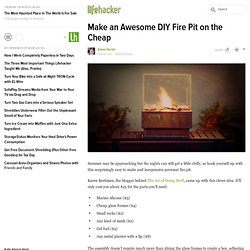 And when they do, I hope it's not while a pot of lit 'gel' is in the container since not only will you get the fun of being sliced up by razor sharp shards of glass, but flaming razor sharp shards of glass. However the author of the actual article gets a silver star for including a disclaimer in his instructions mentioning the danger and why he doesn't consider it one. LED Infinity Mirror, 32 LEDs, Selectable Patterns, Quality Frame. This Instructable has been updated with better information and better construction, please view the 10" x 10" LED Infinity Mirror Instructable This Instructable covers building my available Full 8"x8" 32 LED Infinity Mirror Kit or re-create it with your own materials such as acrylic or hardboard sheet.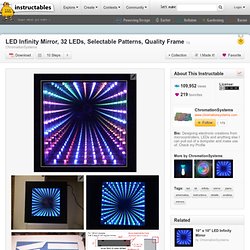 It also could be scaled up or down to suit. Plans are included in the ZIP below. The Kit contains everything needed to recreate this project. Everything from high-quality glass mirrors, parts to build a durable plastic frame, 32x LEDs( color's are buyers choice), LED Controller kit, DC Jack, Wall-Wart Power Supply and wire. Smart tips to make life easier. Your source of daily updated funny pictures and gifs. Building a sauna - How to build a basic sauna. Sauna Building - Sauna Stoves Disclaimer: this account of sauna building is what worked for us.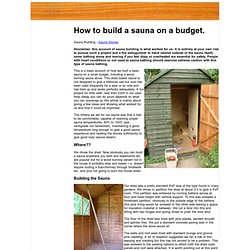 It is entirely at your own risk to pursue such a project and a fire extinguisher to hand (stored outside of the sauna itself), never bathing alone and leaving if you feel dizzy or overheated are essential for safety. 100 Skills Every Man Should Know: 2008's Ultimate DIY List.
Automotive 1.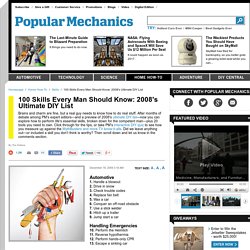 Handle a blowout2. Drive in snow3.
---