DIY
Via: mycakies.blogspot.com Start saving your old jam jars! From cakes to herb gardens, pies to photo frames, and even entire meals … here are 20 fantastic things you never knew you could make with a jar.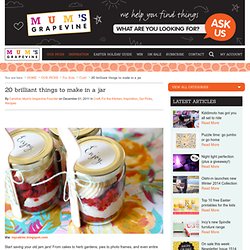 Using stones glowing in the dark is helping to confront two basic, most important and key tasks: the exotic view and lighting area at night, and also adds sense of magic, fairy tales and miracles, because any experienced landscape designer, using stones, glowing in the dark can create just fantastic and bewitching landscapes. Using stones, glowing in the darkness, there is no need to use electric lights on the dark areas of the garden, a path or garden path without lights will be well in sight now. Saving electricity - is another definite plus use of self-luminous stone.
Your garden and glow in the dark stones
Food Hacks News, Videos, Reviews and Gossip - Lifehacker
Honestly, it's not as though pizza is difficult to come by if you want a slice, but this Pizza in a jar trick from the blog 1 Fine Cookie takes the idea of "portable food in jars" to the next level. Not only do you prep the ingredients—dough, sauce, toppings, and cheese—in the jar, you bake it in the jar, and then just pop the top and enjoy. It's perfect for parties, kids, or if you just enjoy a novelty way of eating pizza. Arguments over whether this is actually pizza and whether or not pizza does/doesn't belong in a jar aside, we're big fans of portable food, and can see a few uses for this idea, especially since you can prep the ingredients in the jar, add whatever toppings you like (1 Fine Cookie suggests basil, tomato sauce, pepperoni, and cheese), seal it up, and put it in the fridge or back of the pantry to retrieve whenever you're in the mood, or pack it in the car to bake in any oven, anywhere.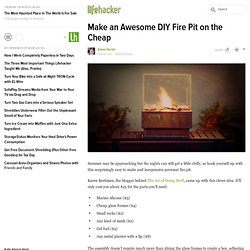 Summer may be approaching but the nights can still get a little chilly, so hook yourself up with this surprisingly easy to make and inexpensive personal fire pit. Karen Bertelsen, the blogger behind The Art of Doing Stuff, came up with this clever idea. It'll only cost you about $25 for the parts you'll need: Marine silicone ($5)Cheap glass frames ($4)Small rocks ($2)Any kind of mesh ($2)Gel fuel ($4)Any metal planter with a lip ($8)
Make an Awesome DIY Fire Pit on the Cheap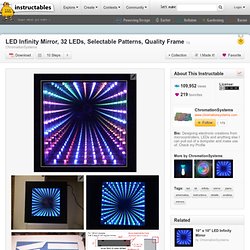 LED Infinity Mirror, 32 LEDs, Selectable Patterns, Quality Frame
This Instructable has been updated with better information and better construction, please view the 10" x 10" LED Infinity Mirror Instructable This Instructable covers building my available Full 8"x8" 32 LED Infinity Mirror Kit or re-create it with your own materials such as acrylic or hardboard sheet. It also could be scaled up or down to suit. Plans are included in the ZIP below. The Kit contains everything needed to recreate this project. Everything from high-quality glass mirrors, parts to build a durable plastic frame, 32x LEDs( color's are buyers choice), LED Controller kit, DC Jack, Wall-Wart Power Supply and wire.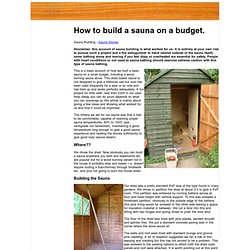 Sauna Building - Sauna Stoves Disclaimer: this account of sauna building is what worked for us. It is entirely at your own risk to pursue such a project and a fire extinguisher to hand (stored outside of the sauna itself), never bathing alone and leaving if you feel dizzy or overheated are essential for safety.
Building a sauna - How to build a basic sauna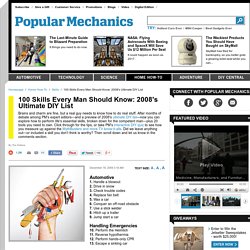 Automotive 1. Handle a blowout2. Drive in snow3.