HTML 5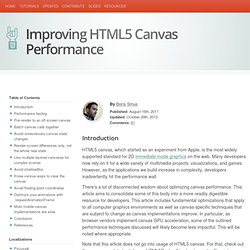 Introduction HTML5 canvas, which started as an experiment from Apple, is the most widely supported standard for 2D immediate mode graphics on the web. Many developers now rely on it for a wide variety of multimedia projects, visualizations, and games. However, as the applications we build increase in complexity, developers inadvertently hit the performance wall. There's a lot of disconnected wisdom about optimizing canvas performance.
Oh look – a squirrel. Click to view full-screen… This demonstration illustrates how to use the HTML5 full-screen API which has been implemented in Firefox, Chrome and Safari. For further information, please refer to the article How to Use the HTML5 Full-Screen API… This example code was developed by Craig Buckler of OptimalWorks.net for SitePoint.com. Please view the source and use this code as you wish.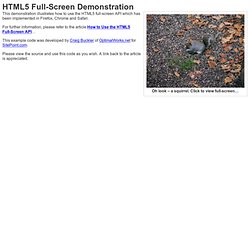 HTML5 Full-Screen Demonstration
Processing.js 1.4.1 released! Processing.js 1.4.0! And then Processing 1.4.1! Because there was a really silly but ruinous regression introduced by 1.4.0! All joking aside, 1.4.1 is a hotfix for 1.4.0, fixing a bug that prevents sketches from focussing on mouse clicks.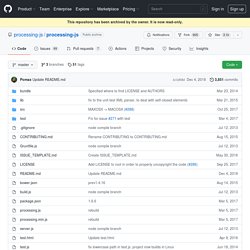 User agents are not required to present HTML documents in any particular way. However, this section provides a set of suggestions for rendering HTML documents that, if followed, are likely to lead to a user experience that closely resembles the experience intended by the documents' authors. So as to avoid confusion regarding the normativity of this section, RFC2119 terms have not been used.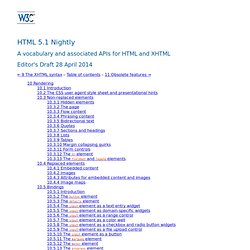 10 Rendering — HTML5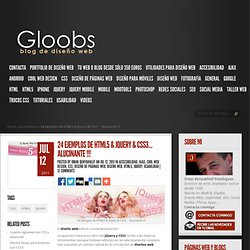 24 Ejemplos de HTML5 & jQuery & CSS3… Alucinante !!! El diseño webestá en constante evolución. La aparición hace unos años del jQuery y CSS3, unido a las mejoras introducidas (aunque todavía ridículas) en las velocidades de conexión, han supuesto un cambio radical en la concepción de diseños web. Ahora con la implantación cada vez mayor de las webs hechas con HTML5, llegamos a un periodo en el que "todo es posible". Con un poco de imaginación y atractivos diseños, vamos a ver una total revolución en el diseño web, sobre todo en la usabilidad. A continuación os dejo con 24 ejmplos de páginas web realizadas en HTML5, jQuery y CSS3, que me han sorprendido mucho, estamos entrando en una nueva fase de diseño y usabilidad, en la que ya no hace falta pulsar sobre un botón para realizar una acción, en la que podremos interactuar mucho más con la web y dejar de ser meros espectadores.
24 Ejemplos de HTML5 & jQuery & CSS3… Alucinante !!! | Blog de Diseño Web
Labs - Joe Critchley • Interface Developer
JavaScript® (often shortened to JS) is a lightweight, interpreted, object-oriented language with first-class functions, most known as the scripting language for Web pages, but used in many non-browser environments as well such as node.js or Apache CouchDB. It is a prototype-based, multi-paradigm scripting language that is dynamic, and supports object-oriented, imperative, and functional programming styles. The JavaScript standard is ECMAScript. As of 2012, all modern browsers fully support ECMAScript 5.1.
Holas :) en css se plantea mucho sobre las fuentes, lo ideal… es usarle las propiedades del css para que se vea bonito al usuario, y para nosotros fácil de manejar. El css nos da la flexibilidad de poder darle color, tamaño, grueso y otras propiedades que trataremos de explicarlas, no todas :p por que son demasiadas pero si las mas importantes. Recuerda algo, por el momento no se pueden usar fuentes que el visitante no tenga instaladas, por ejemplo este tipo de letra, es muy bonita y hasta agradable, pero el problema es que si nosotros la instalamos en nuestra pc y trabajamos con css o en html con ese tipo de letra y la subimos a un servidor, esta en NUESTRA PC se va a ver muy bien, el problema es cuando nuestros usuarios abran nuestro sitio web, ellos no verán correctamente por que en la pc del usuario no esta instalada esta fuente.
Tipos de fuentes en css « Don Estándares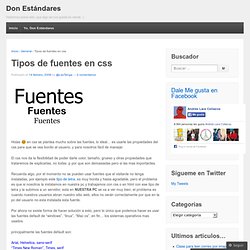 El Centro de HTML5 por SourceForge y Microsoft
What's Inside? Everything you should be doing, as easy as possible: You can use JavaScriptMVC as a complete framework, or download only the parts you need. Read JavaScriptMVC's features for more info. The Plan.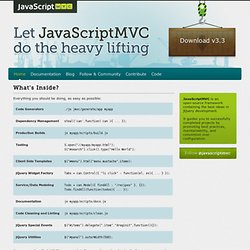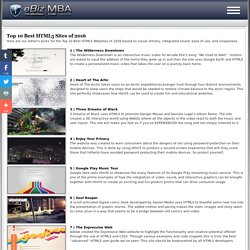 Here are our editor's picks for the Top 10 Best HTML5 Websites of 2014 based on visual artistry, integrated sound, ease of use, and uniqueness. 1 | The Wilderness Downtown The Wilderness Downtown is an interactive music video for Arcade Fire's song ''We Used to Wait''. Visitors are asked to input the address of the home they grew up in and then the site uses Google Earth and HTML5 to create a personalized music video that takes the user on a journey back home.