Animals
Teach the Children Well-Animals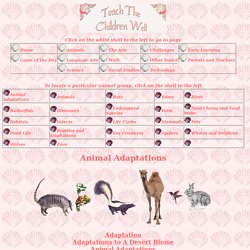 Adaptation Adaptations to A Desert Biome Animal Adaptation Animal Adaptations Animal Adaptations and Survival Animal Adaptations Game Animal Adaptations Web Quest Animal Camouflage Animals and Adaptation Animals, Adaptation and the Galápagos Islands The Body Changers Build a Beast Camouflage Dirtmeister's Animal Adaptations The Evolution Game Hot or Cold How Animals Meet Their Needs How Do Animals Cope With Winter?
Mimicry
Camoflauge in Animals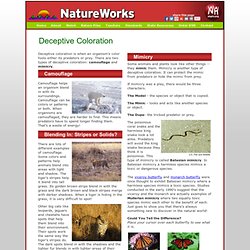 Endangered Species Guide
Rainforest Animals
Wildlife & Nature Videos | Clips | Photos | Programmes - itvWILD
Animals
The Food Chain Every living thing needs energy in order to live.
Food Chain - Kid's Corner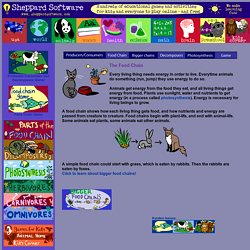 Food Chains and Food Webs
The order that animals feed on other plants and animals is called a food chain.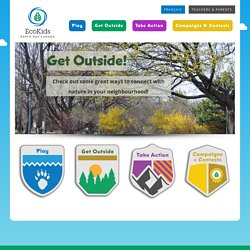 Chain Reaction - Build a Food Chain
Animal Planet :: Map of World Biomes
Kids' Planet ESPECIES Animal Fact Sheets
The Wild Classroom: Biology Videos and Podcasting via Ecogeeks