Marketing & Pub
Vidéo Le BOYCOTT avec Marc Drillech dans Darketing N°23 de darketing (Actualité - darketing
MANGE TA MAIN!
Le bar à courses de Monoprix: marketing sensoriel et marketing olfactif | Retail Intelligence
spécialiste en solutions Retail Intelligence
Dirt Devil-The Exorcist
Les dessous d'une publicité.
Les dessous d'une pub - Communication Marketing Evenementiel
Dans la publicité
Better When French French Dip Thickburger at Hardee's
E4 "Continuity" Trail
Funny and Creative Ads » Design You Trust – Social design inspiration!
TRUE ORIGINALS NO. 4: THE OUTSIDER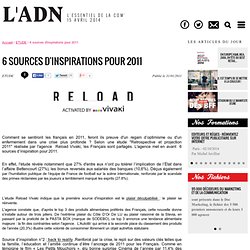 Comment se sentiront les français en 2011, feront ils preuve d'un regain d'optimisme ou d'un enfermement dans une crise plus profonde ? Selon une étude "Retrospective et projection 2011" réalisée par l'agence Reload Vivaki, les Français sont partagés. L'agence met en avant 6 sources d'inspiration pour 2011.
Etudes - 6 sources d'inspirations pour 2011
Publicité & Société 2010 (Agence Australie)
Drink & Kiss
Aujourd'hui plus que jamais, il faut impérativement être créatif et original pour capter l'attention de son auditoire et pouvoir ainsi se démarquer de la concurrence. The Magic Brainwsaher est un collectif qui a su trouver la petite idée originale pour se démarquer. Et celle-ci consiste à insérer des tours de magie dans leurs campagnes de communication!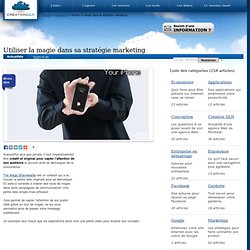 Utiliser la magie dans sa stratégie marketing - Le blogue d'une agence Web Montréal