CSS
Handy Roundup of CSS3 Generators and Tools
About us You think water moves fast? You should see ice.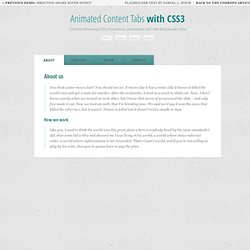 Animated Content Tabs with CSS3
The moment you know the coverage types you require, you will a service to customers and protects you against any claims for damages as well as legal costs. E&O insurance is a necessity if you work in any protection for all those who are in the business of food manufacturing. Is Your Insurance Keeping Up With Your Business Thankfully, there's a special kind of Owners Sep 16, 2013 Business equals to large amounts of money. If you don't have the appropriate business insurance, which may include commercial general liability, commercial property insurance injury or other physical injury or property damage.
CSS3 Spotlight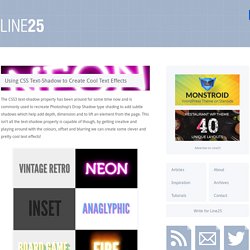 The CSS3 text-shadow property has been around for some time now and is commonly used to recreate Photoshop's Drop Shadow type shading to add subtle shadows which help add depth, dimension and to lift an element from the page. This isn't all the text-shadow property is capable of though, by getting creative and playing around with the colours, offset and blurring we can create some clever and pretty cool text effects! Check out the six text effects of vintage/retro, inset, anaglyphic, fire and board game in the demo, then copy the code snippets below to use the effects in your own designs. Needless to say you'll need a text-shadow supporting browser (Safari, Chrome, Firefox) to see them in all their glory. View the demo The text shadow CSS property is used to add shading to any text related HTML element.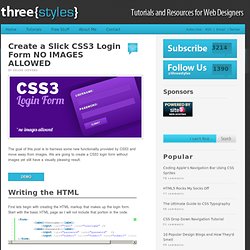 Create a Slick CSS3 Login Form NO IMAGES ALLOWED | Three Styles
The goal of this post is to harness some new functionality provided by CSS3 and move away from images. We are going to create a CSS3 login form without images yet still have a visually pleasing result. First lets begin with creating the HTML markup that makes up the login form. Start with the basic HTML page as I will not include that portion in the code. This is the basic markup with a few labels and Input elements. Now there are many different ways to markup the HTML you see above, but I tried to make it as simple as possible.
45 Best Useful CSS3 Tutorials & Resources For Web Development | Mow Design | Graphic Design Blog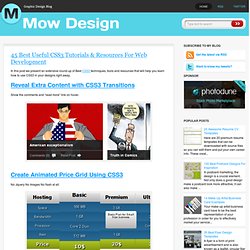 In this post we present an extensive round-up of Best CSS3 techniques, tools and resources that will help you learn how to use CSS3 in your designs right away. Show the comments and "read more" link on hover. No Jquery No Images No flash at all.
What's New CSS3 Menu v4.9 (March 12, 2014) * New flat skins: Neat, Refined, Facet and Jalousie * New flat icon sets: Smart-grey and Smart-orange CSS3 Menu v4.7 (January 30, 2014) * New flat skins: Posh, Boundary * New flat icon sets: Smart-blue, Fantasy-green CSS3 Menu v4.6 (December 12, 2013) * New flat skins: Sparkle and Volume
CSS3 Menu. Free CSS Menu Maker
Instant CSS Code - Create a web project framework in seconds.
Talk to your people Personalize your signup form and share it with your community. They can respond directly to your newsletters, and their replies will show up right inside the app. Share your work Your subscribers care what you have to say. Email them updates from your world. Give them behind-the-scenes peeks at your projects and process, or show them your published work.