Hydrogen
Je la regarde. Welcome to The Hopewell Project. In 2006, the first Solar-Hydrogen Residence in North America was completed in Hopewell, New Jersey at the home of Mike Strizki.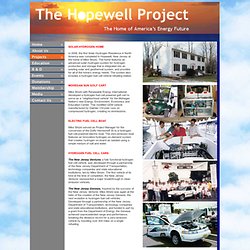 The home features an advanced solar-hydrogen system for hydrogen production and storage that is integrated into an existing solar and geothermal system, and provides for all of the home's energy needs. The system also includes a hydrogen fuel cell vehicle refueling station. Mike Strizki with Renewable Energy International developed a hydrogen fuel cell powered golf cart to serve as a "neighborhood vehicle" for the Mohegan Nation's new Energy, Environment, Economics and Education Center. This modified GEM vehicle manufactured by Daimler Chrysler runs on compressed hydrogen, creating no emmissions. Hopewell hydrogène.
Water Powered Car. Index. Untitled. Chaîne de misterdandb. La PAC en 3 min de vidéo en français. Moteur dihydrogene. L'hydrogène c'est possible si on le veut bien. Resonant Water Found !! Unlimit HHO !!! Brown's gas 40 LPM. Self resonating powering circuit for HHO cell. Solar hydrogen home Michael Strizki. Kit hydrogène BTP / Engins de Chantier.
---