Hydrogen
Je la regarde
In 2006, the first Solar-Hydrogen Residence in North America was completed in Hopewell, New Jersey at the home of Mike Strizki. The home features an advanced solar-hydrogen system for hydrogen production and storage that is integrated into an existing solar and geothermal system, and provides for all of the home's energy needs. The system also includes a hydrogen fuel cell vehicle refueling station. Mike Strizki with Renewable Energy International developed a hydrogen fuel cell powered golf cart to serve as a "neighborhood vehicle" for the Mohegan Nation's new Energy, Environment, Economics and Education Center. This modified GEM vehicle manufactured by Daimler Chrysler runs on compressed hydrogen, creating no emmissions.
Welcome to The Hopewell Project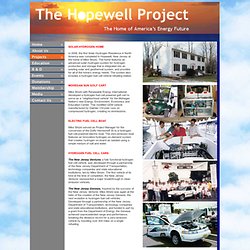 hopewell hydrogène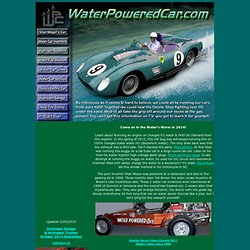 "The automobile has practically reached the limit of its development is suggested by the fact that during the past year no improvements of a radical nature have been introduced." (Scientific American January 2, 1909) Hydrogen and Oxygen gas spilt from water, we can "Hydroxy gas" the molecules are bonded together positively in a ortho hydrogen state, 2.4x's to 4x's more powerful than the normal "para hydrogen" The common hydrogen "para hydrogen" the apposing negative state of hydrogen that can be pressurized into a metal tank or bottle. NOw they store it in plastic bottles., that can take high pressure for long periods that we see in pressured into a liquid metal bottle of gas.
Water Powered Car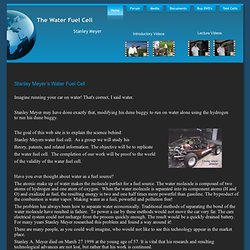 Stanley Meyer Introductory Videos Lecture Videos Click Here Stanley Meyer's Water Fuel Cell Imagine running your car on water!
Controverse sur le moteur à eau de Stanley Meyer Stanley Meyer (1941-1998) est un américain vivant en Ohio et connu pour son fameux moteur censé utiliser de l'eau liquide comme seul carburant et est à l'origine de nombreuses controverses. Aujourd'hui, Internet grouille de site web vantant les mérites de cette invention qui aurait été - selon ces mêmes sites - étouffée par les lobbies pétroliers et constructeurs automobile apeurés devant cette révolution. Mais on a beau chercher, aucune référence n'est jamais proposé par ces sites qui s'obstinnent à affirmer contre vent et marée que c'est un complot, que toutes les preuves auraient été dissimulées par les opposants à cette avancée et qu'il aurait été tué par empoisonnement par ses opposants. D'un autre coté, on trouve une population de sceptiques rejetant systématiquement ce concept de moteur à eau, refusant souvent de perdre leur temps en explication, ce procédé ne respectant pas selon eux les principes de conservation énergétique.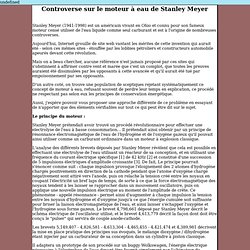 unnamed pearl
Chaîne de misterdandb
La PAC en 3 min de vidéo en français.
moteur dihydrogene
L'hydrogène c'est possible si on le veut bien
Resonant Water Found !! Unlimit HHO !!! Brown's gas 40 LPM
Self resonating powering circuit for HHO cell
kit hydrogène BTP / Engins de Chantier